Posted April 23, 2016 at 3:00 am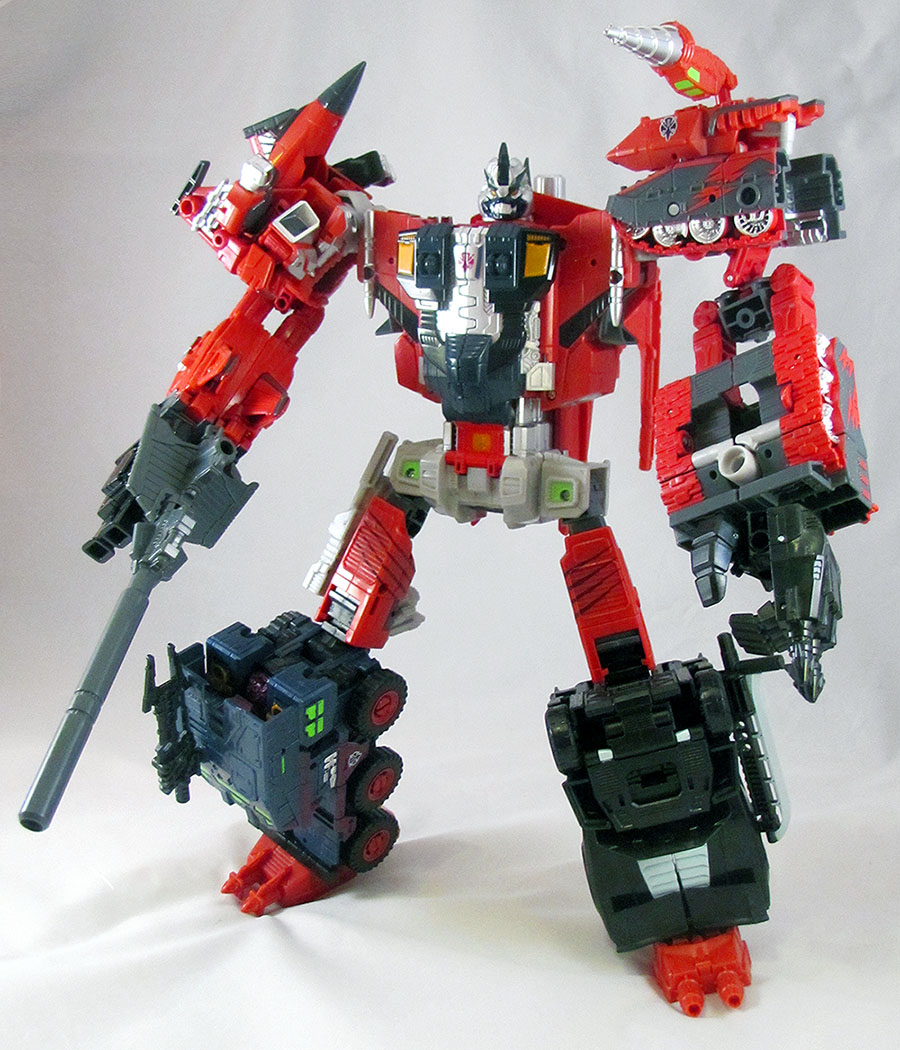 Newsflash: I am, like, super into Combiner Wars. I want every Transformer already in my collection to be redone as a Combiner Wars limb or torso or accessory, I don't care if it means I would then own six hundred Dead End retools, I am up for it.
So imagine my interest in Combiner Wars combined (get it?) with my love for Beast Wars, and you've got this Predacus guy. And then imagine my interest in Ravage combined with both of those two things already, and, yeah, this BotCon 2016 set is in my wheelhouse. Because Ravage is in it. Hell, the first thing we saw was Ravage, and I was sold. Everything else could have been soggy dead puppies and it still would have been a great set, because at least one part of it was a Ravage who could become an arm or a leg.
Ravage himself is a Combiner Wars-style recreation of his appearance in the Beast Wars cartoon, crossed with his Alternators toy where he was a robot with a jaguar head who transformed into a black sports car. You have no idea how much my jam that is. All of my jam. Ravage is Breakdown with a new kitty head. A very flat, as seen from the side, kitty head. What I'm saying is he has no back of his skull. It's like the Invisible Man is wearing a Halloween mask of Ravage's face.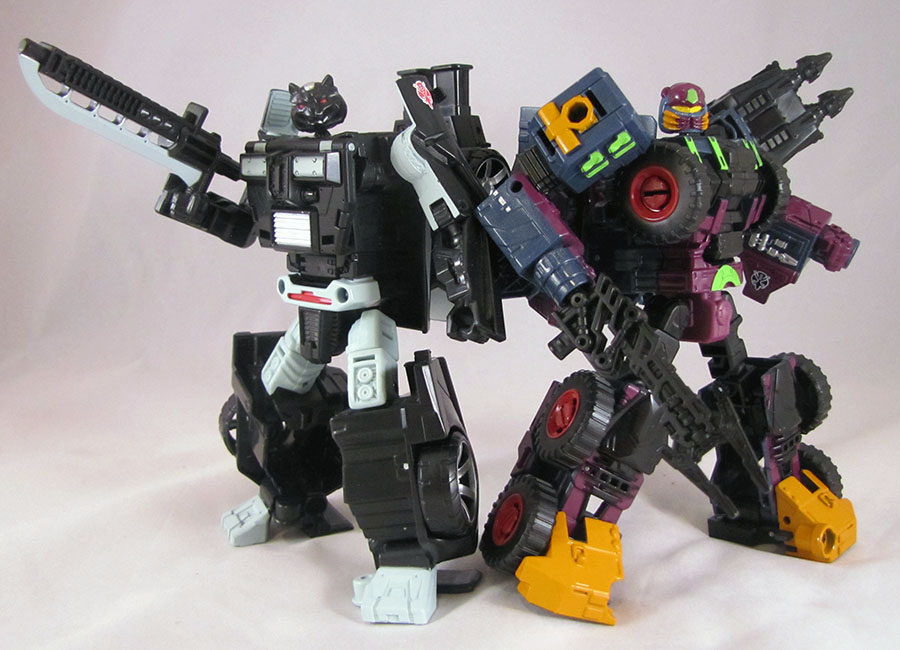 But it's okay. I don't care. It's Ravage as a Combiner Wars limb.
I may be somewhat biased.
Ravage's partner leg is Tarantulas, who's Combiner Wars Rook with a new head. We just got a vehicle-mode-style Tarantulas last year who's essentially perfect, which would in most cases make this new vehicle-mode-style Tarantulas surplus to requirements, but you forget that I want all characters ever to be able to be a limb or a torso, so he's still desired. He's a Tarantulas who can become an arm or a leg. He's a want.
The other three, now, these guys are interesting! They're the Tripredacus Council from "The Agenda (Part 1)," also known as "that time that it was really cool that Beast Wars started connecting itself to G1 a little but then fandom started thinking that connecting BW to G1 was what BW was all about and then we never got anything else out of new Beast Wars fiction ever." Ahem. But I digress. The Tripredacus Council! We've never got toys of them as they've appeared on the cartoon, as they were essentially three random robot dudes who got randomly assigned names from the components of Tripredacus, the Predacon Beast Wars combiner. But here they are, and they turn into vehicles, because they aren't beasts right now/yet.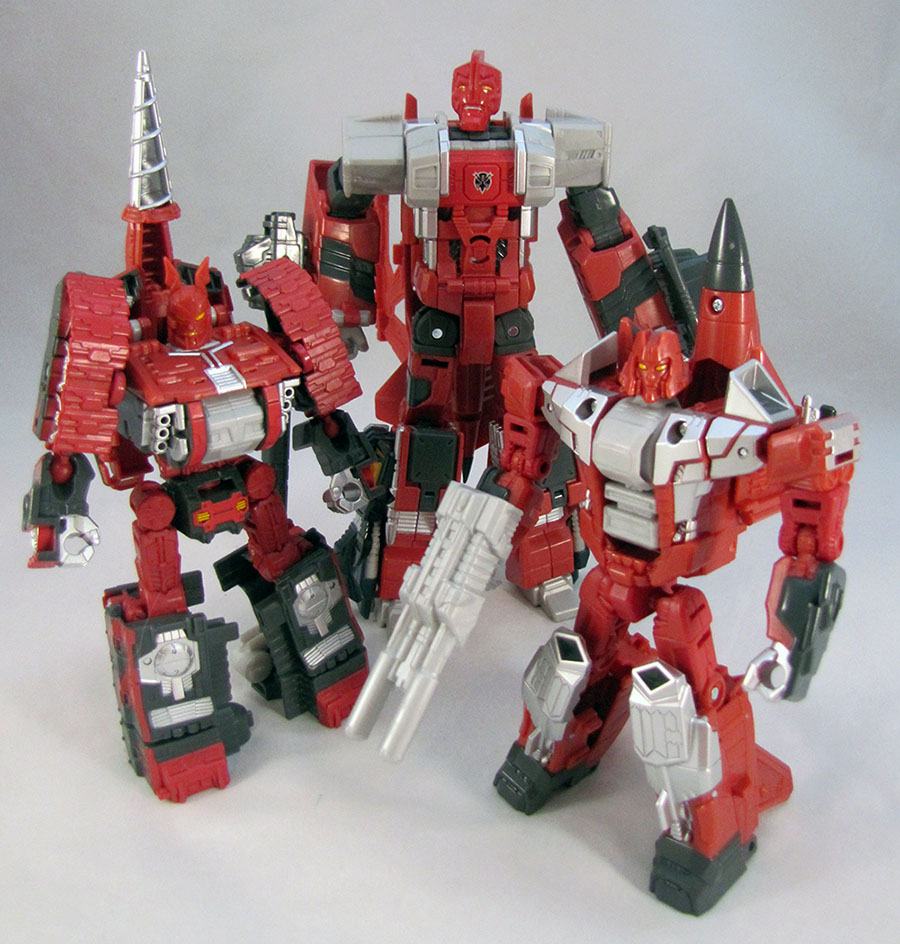 Ram Horn is the guy on the show who had little wings on his head and whose face was made mostly of Rattrap's, but with a nose. He's got a new head and that head sits atop Brawl/Nosecone. Combiner Wars Brawl/Nosecone is not that great of a toy, but I guess it's an appropriate use, nonetheless. Ram Horn was a rhinoceros beetle, and so using a tank with a drill is kind of evocative of that kinda beasty shape.
Cicadacon is the guy on the show who had Megatron's face incased inside a DEVO hat with little horns. Sadly, his Combiner Wars toy does not have his own new head, and he's the only toy in the combiner that doesn't have a new head! It makes me a little sad. He's just Skydive with no sculpting alterations, and while he has the same general shape for his helmet, he lacks the little horns and most importantly he lacks the Megatron face. I need that triangle nose, man!
Sea Clamp is the guy on the show who had a head that looked like somebody had five minutes to extrude a CGI block into something resembling a face and then somebody else's mouth was pasted onto the chin. Sea Clamp's original toy was a lobster, hence the name, but Combiner Wars doesn't have much in the way of sea vehicles. Or any sea vehicles. But he's Scattershot, who's a spaceship thing, and maybe you can pretend spaceship things are sea vehicles, right? He has a new head.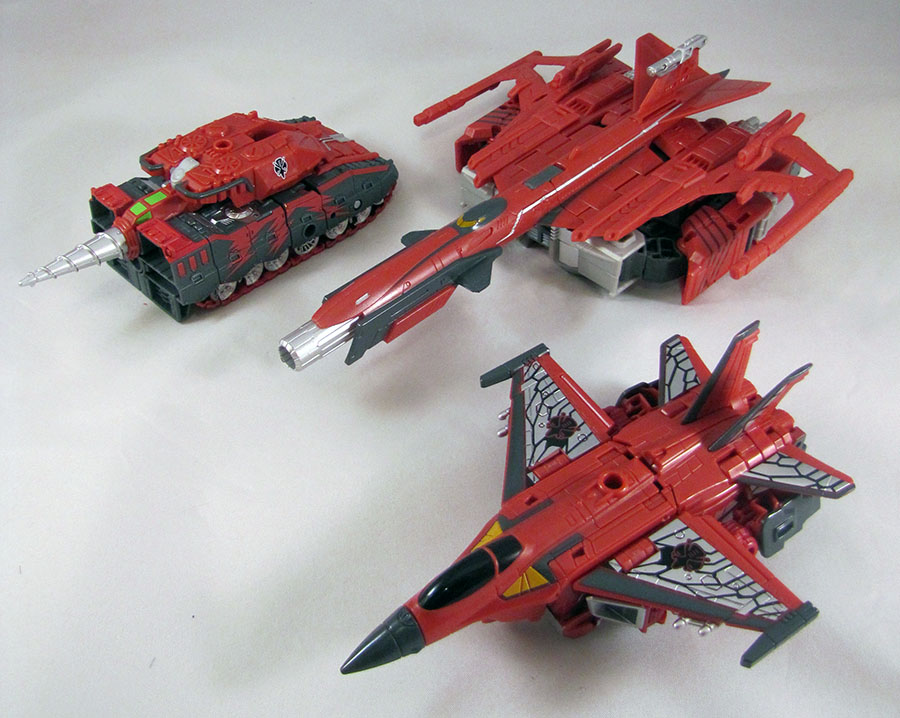 He also has another new head in his tummy for the combined mode, Predacus. Ravage and Tarantulas become the legs and the Tripredacus Council becomes everything above the knees. You'd think, seeing three red guys and one black guy and one dark blue guy, that he'd look a little mismatched, but honestly he looks pretty great. There's Tarantulas and Ravage's colors duplicated on the combiner chest, and they want you to swap the red and black fist/foot/weapons with each other so that there's a better scattering of colors, and it basically works. He's a very attractive combiner. His new head is based on Tripredacus's, of course.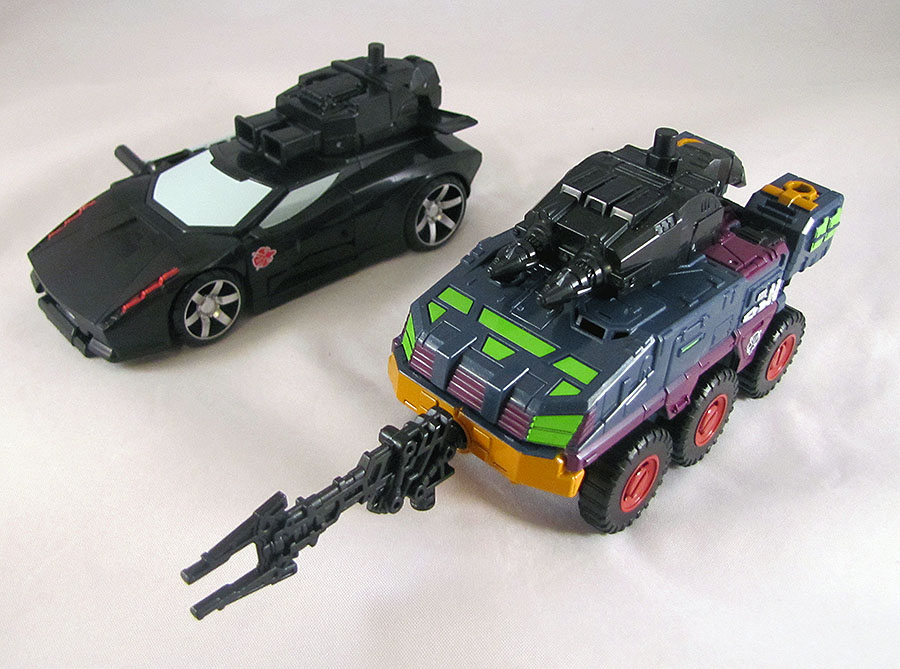 My complaints: Some plastic tolerance issues! Sometimes their fist/foot/guns don't fit securely into the wrist or ankle pegholes. You can have hands drop off the arms and it's annoying. Also, man, Brawl/Nosecone is not a great toy. He's the weak link in this chain of robots. And, yeah, Ravage is missing his brain. Whatevs, I don't look at him from the side anyway, and really the limp wrists and Brawl are more of an annoyance than that. There's also unfortunately the comic book he comes with but let's keep this a happy place in the wake of a very important day.
Yesterday was the 20th anniversary of the first airing of the Beast Wars cartoon pilot on syndication! I watched it on television that day, like after school or something. Because of course I did.