Posted September 5, 2021 at 11:30 am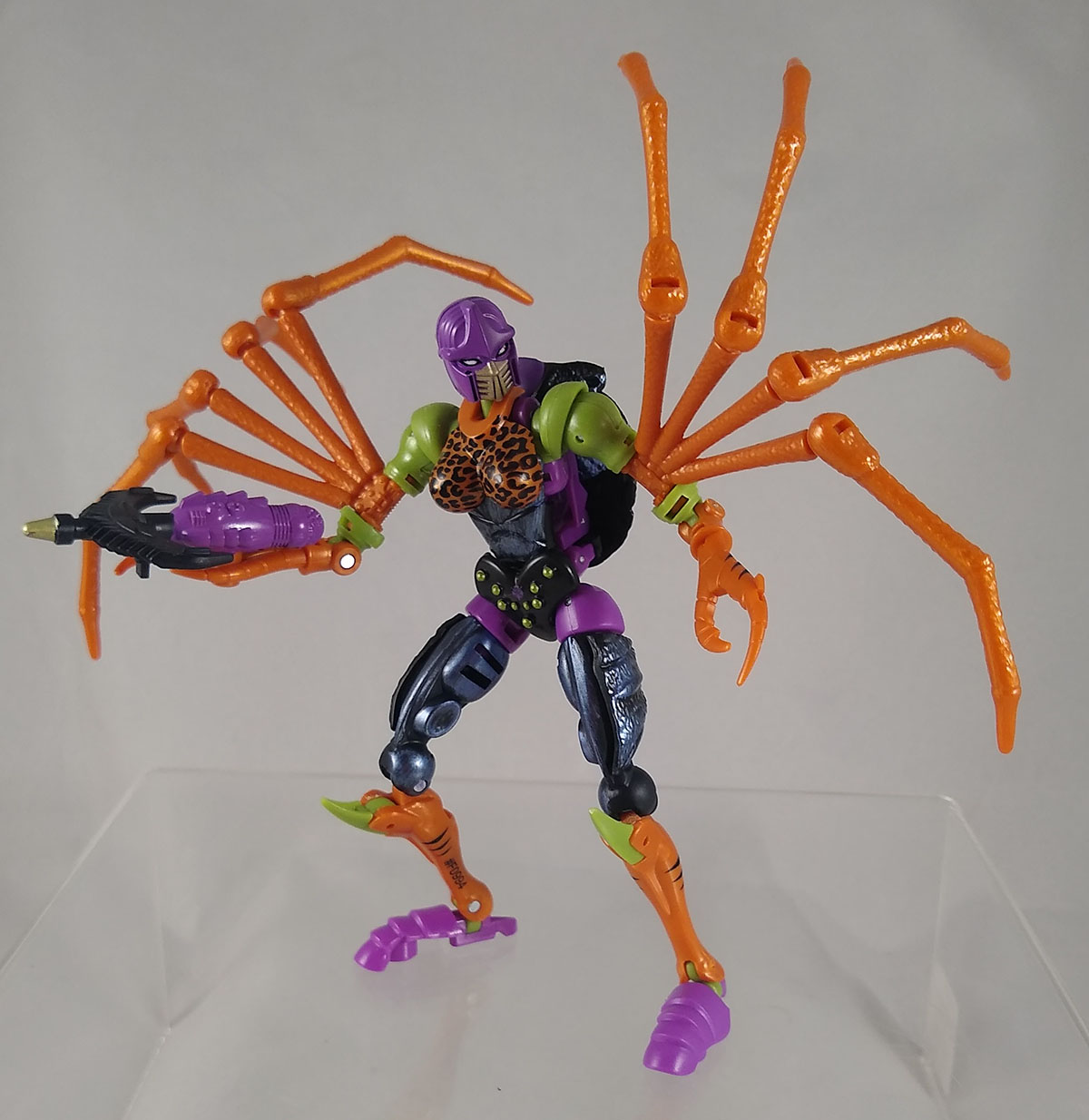 Back when, uh, thieves first unveiled Kingdom Blackarachnia to the world, one stolen sample came with an extra face piece for Blackarachnia that mimicked her original toy's head. When you get stuff "borrowed" off the assembly line, you can end up with more or less pieces than will come with the final production toy, and extra parts included in the tooling for later releases are produced along with everything else, so it's no big surprise that extra face was there to grab. But "original toy head" is a bit of a misnomer. It resembles the toy head, sure, but it more accurately resembles the packaging art head.
And so I am full on for Transformers Kingdom "World's Collide" Blackarachnia, because she not only has a head based on the original packaging art, but her deco leans heavily into that direction as well. This could have been a simple original toy colors redeco, but no, this toy goes hard.
Let's go down the list:
Blue iridescent sheen on black areas? Yes
Leopard print on the boobular section? Yes
Three boomerang shapes painted on each claw? Yes
Pale yellow/greenish face (instead of the toy's white)? Yes
Black harpoon instead of gold? Yes
It's all very satisfying! I mean, strict toy colors would have been interesting enough, honestly, but this feels like a very worthy deeper-dive. The original Beast Wars packaging art gave us a glimpse into an alternate universe of these characters before Mainframe's cartoon series took them in a different direction, and it's good to see a window back into that world.
Blackarachnia comes in the Target-exclusive World's Collide 4-pack, of which they produced maybe six. Four of them are on eBay.