Posted August 4, 2023 at 2:21 pm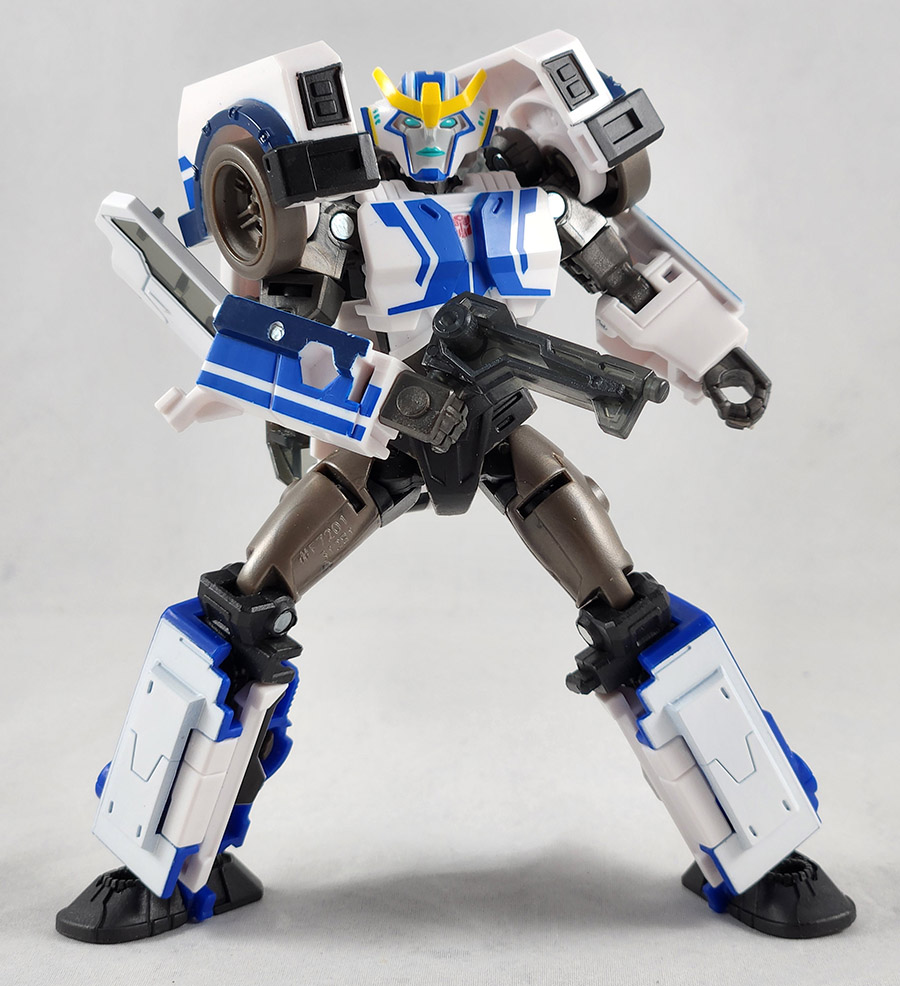 Look, nobody liked Strongarm in 2015's Robots in Disguise cartoon because she was a cop, they liked her because she used the strict following of rules and procedure to help her cope with a universe she otherwise had trouble socially engaging with! Let's just focus on that second part instead of the part about how the Autobots' whole deal in that cartoon was incarcerating various wayward individuals who all shared the visual coding of being subhuman animals.
and with that out of the way
I am super into this Transformers: Legacy: Evolution toy of Strongarm! She's a retool of Legacy Elita One, who was already a favorite toy of mine, so of course Strongarm is already going to be up my alley. To tell the truth, she's an entirely new sculpt from the waist up, sharing only some transformation similarities. (And some parts in her shins are new.) Her new shoulders are sculpted in a way that lets the front hood/wheel pieces sit cleanly over them, plus the're on hinged arms that let them maneuver to and fro to accommodate different poses. Though this is ignored by the instructions, she now has the ability to fan out her truck mode's doors into little wings.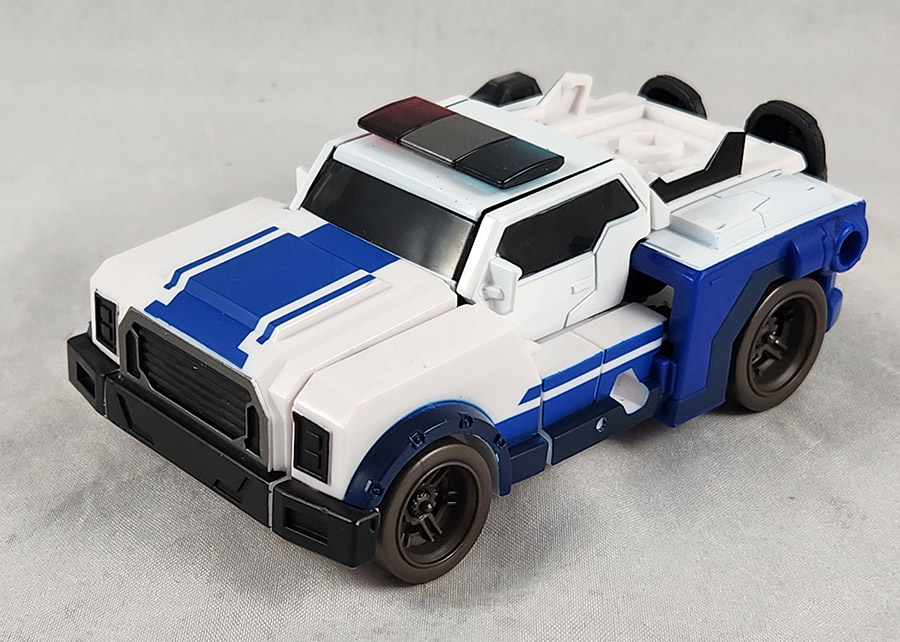 Legacy Elita One was a good choice for retooling into Strongarm because she was basically already Strongarm-shaped, with her big boxy boot shins and general un-Arcee-like proportions. Even so, Strongarm's new parts widen her torso and give her bigger, boxier forearms. She's literally got stronger arms. Strongarm's head is even a little smaller than Elita One and Minerva's, but not too much smaller -- you want Strongarm to fit in amongst the rest of the Legacy toys, while acknowleding that every single humanoid character on Robots in Disguise was kind of goofily pinheaded.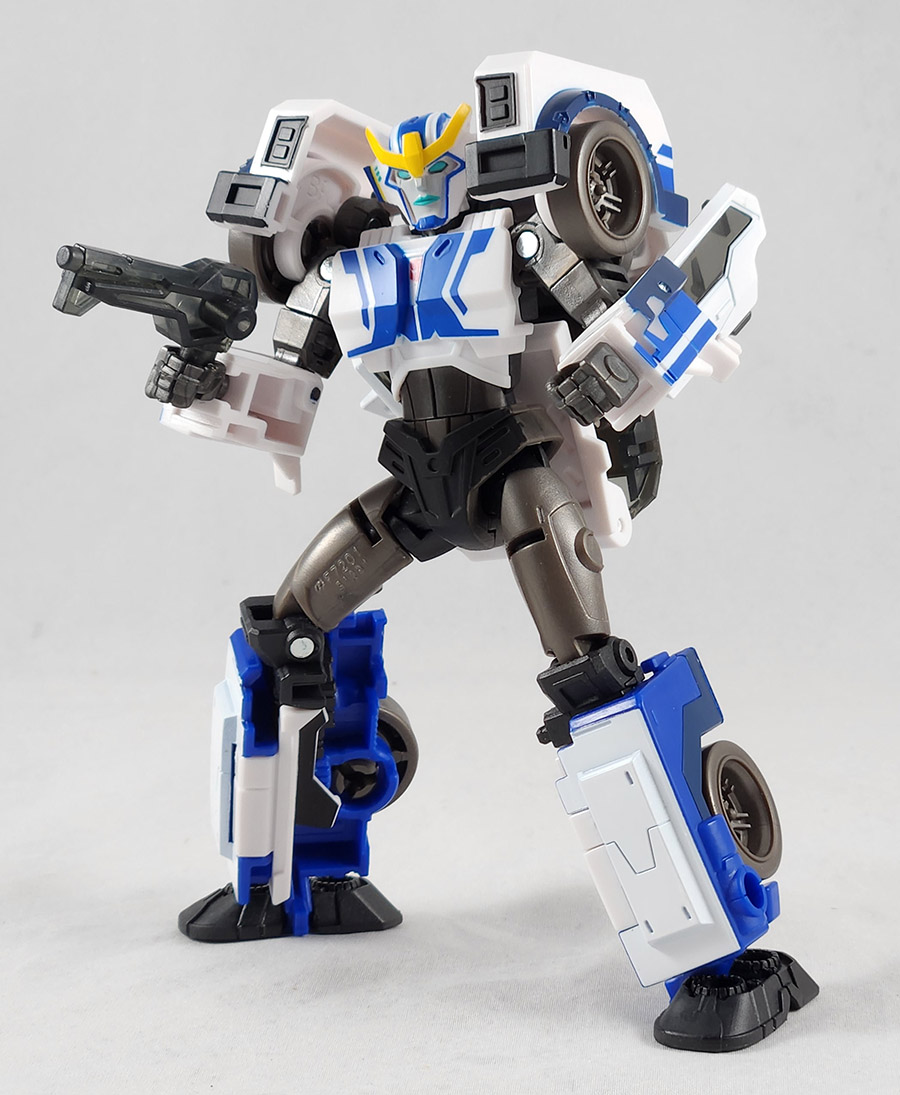 But by far the best thing about Legacy Strongarm is how much of the paint budget is dedicated to decoing her head. Like, luxurious numbers of paint operations. I wonder how much paint her case assortment mates don't have just to make this possible. I mean, usually a Transformer's head has only the face and eyes painted, plus maybe a token bit of forehead decoration, but Strongarm also has the line of blue that traces around her face and chin, the extra blue lines on the tips of her ears, the additional six lighter-blue marks on the front of her ears, the three blue lines that travel over the top of her noggin, her lips... it's a lot. And yet the rest of her doesn't feel underpainted. A lot of care was put in here.
Definitely several steps up from the original Warrior Class toy, which kind of felt like it fell halfway into blue paint once and they felt it was done.
Strangely satisfying for a toy that has somebody else's legs.