Posted October 16, 2022 at 10:15 am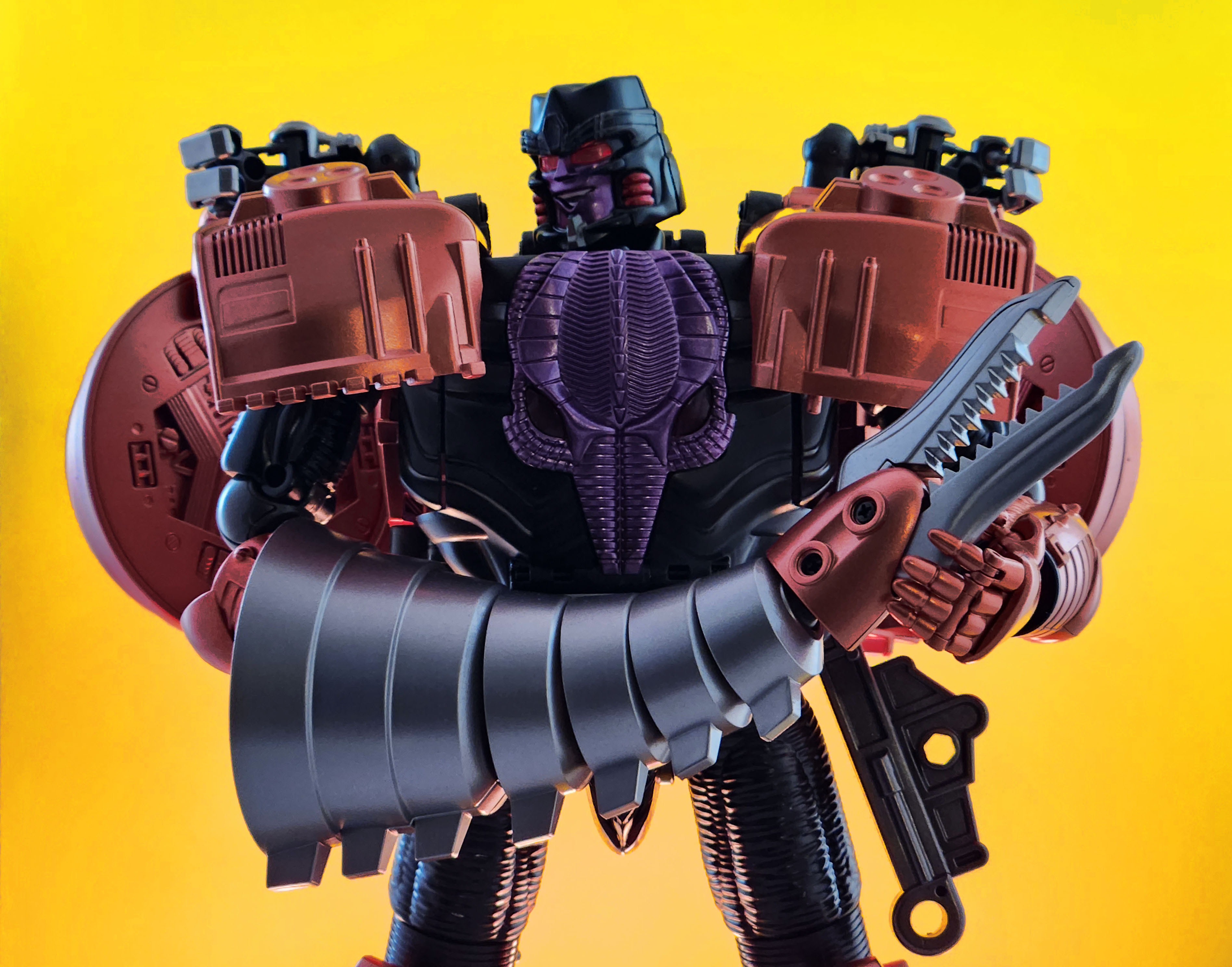 You know that Branson Reese meme with the "NO FEAR" t-shirt, the second panel, and then the "ONE FEAR" t-shirt? Well, my middle panel is "MP-scale show-accurate Beast Wars Transmetals third party toys." I was never a third party (not-Hasbro/Takara, unlicensed, illegal, infringing, etc) guy, but once you have TakaraTomy indefinitely stall their Beast Wars Masterpiece efforts, essentially signal that they're never ever going to slip into Season 2/3 Metals guys, and have TransArt (a 3P company) start cranking out screen-perfect toys of Beast Wars Transmetals folks, that's really my silver bullet. I'm sorry. I can't not own these. It's impossible.
I saw on the Internet that Transart's "BWM-06 Metal T. Rex" was going to exist, saw that it was perfect, and then amassed their previous offerings in anticipation. So I have their Transmetal Cheetor, their Optimus Primal, their Ravage, and these are basically all I ever live for now. Well, my wife and children, sure. But also mostly these.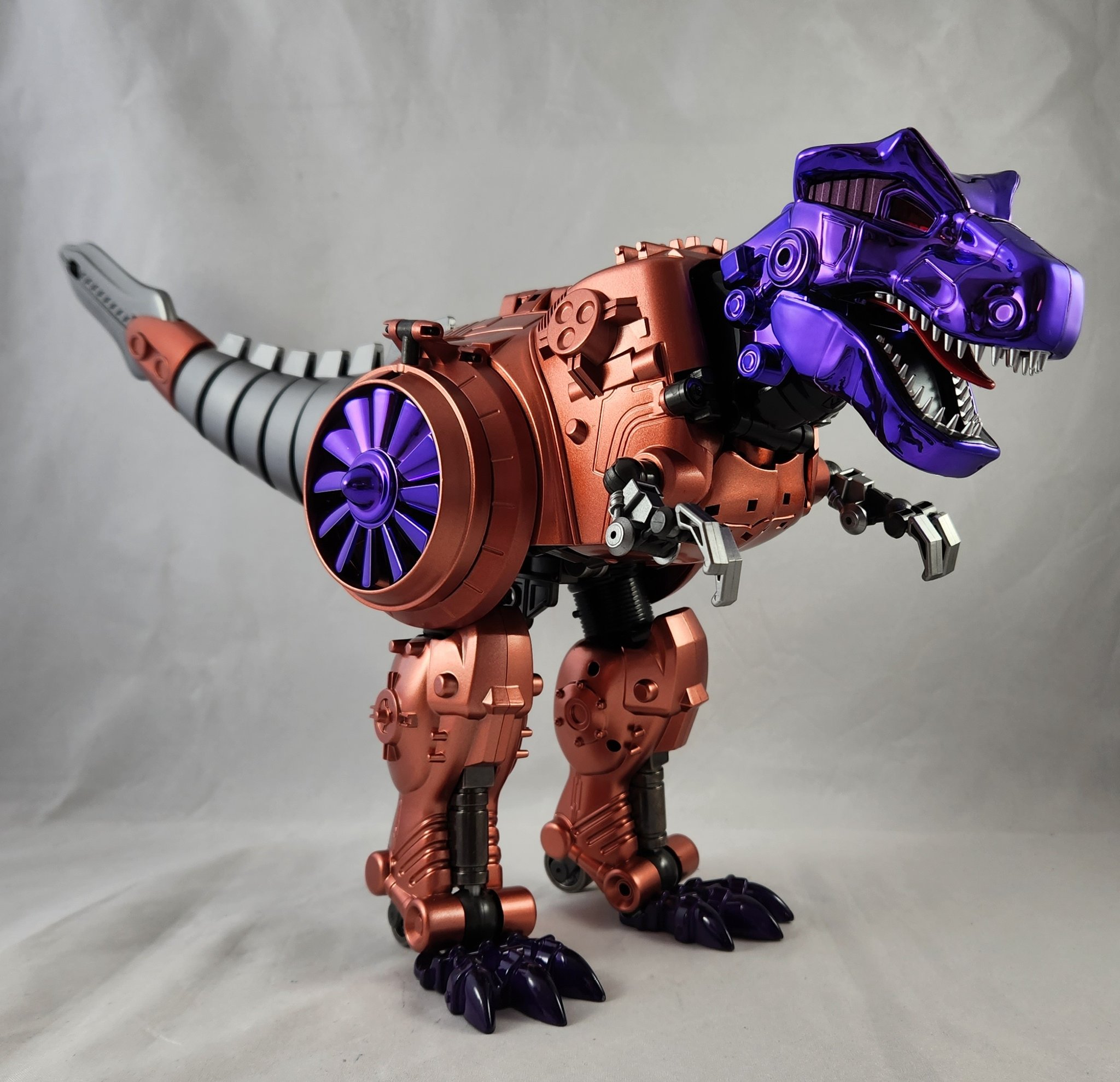 These third party toys by TransArt also avoid the pitfalls that both official Masterpieces and third party offerings often succumb to, by my experience. Usually they're overwrought and fragile with complexities and unnecessary engineering, but so far TransArt's outings have kept things simple and robust. These are mostly just oversized versions of the original toys, with extra articulation. They're not literally upsized knockoffs or anything -- all the sculpts are distinct from the originals (the CGI models were very similar but not identical to the toy sculpts), but the endpoint is you have a toy that you can transform back and forth without having to take an afternoon off. It helps that the Transmetals were pretty close to their original toys, so you don't have to change much to them to keep them accurate other than the "upscaling." The hugest difference between "Metal T. Rex" and Transmetal Megatron's transformation is that Metal T. Rex has some folding panels to cover up his forearms in tyrannosaurus mode. And these fold easily away.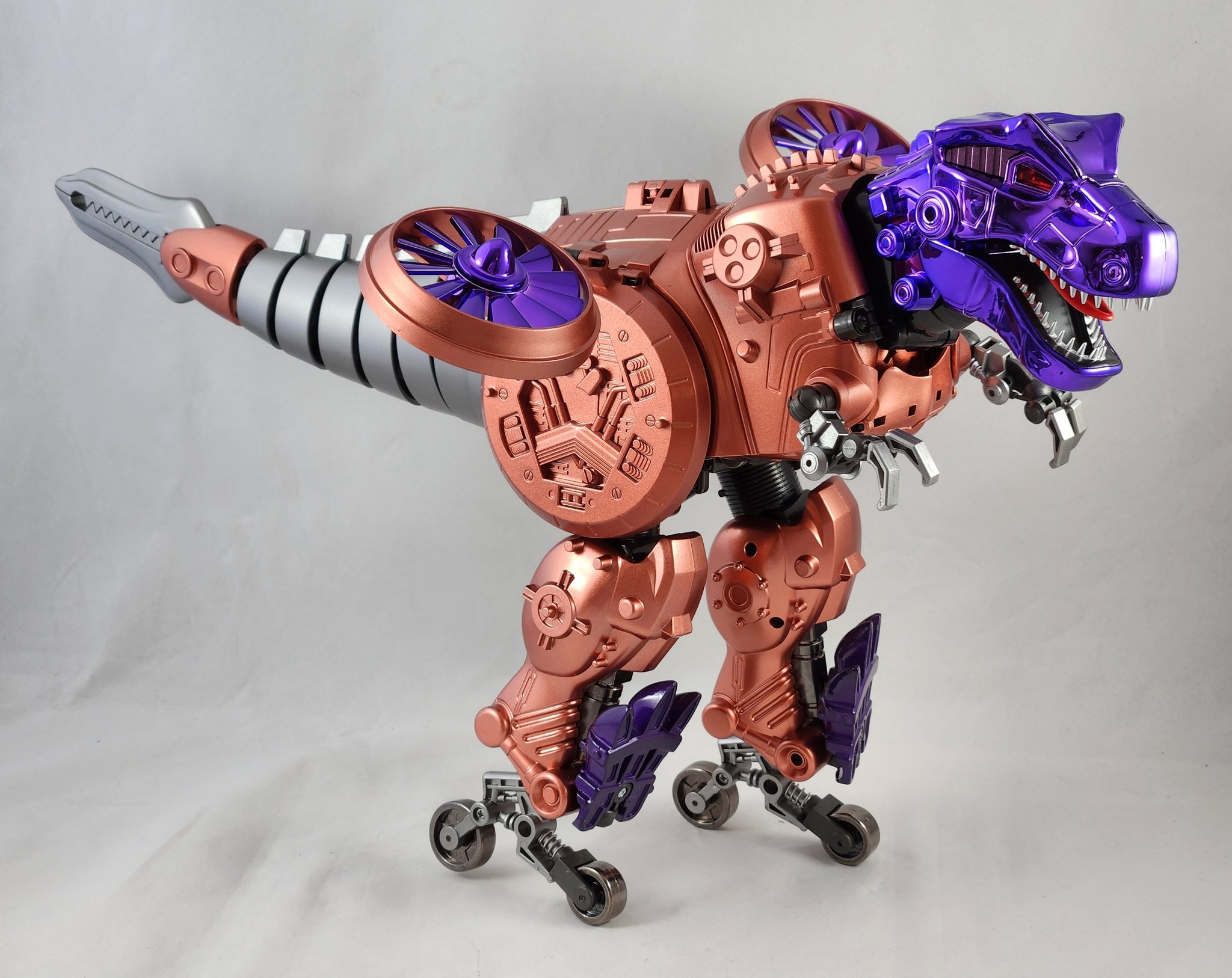 But it's a big, MP-scale Transmetal Megatron. Transmetal Megatron is... probably my favorite Transformer. Of all time. It's a t. rex and it has roller skates and VTOL engines and it transforms into the best Megatron ever in the form he was in when he did all of that Megatron's most memorable things. Also, unlike the Hasbro version of Transmetal Megatron, he doesn't crumble into pieces cuzza Gold Plastic Syndrome. So that's a plus!
But it's a Transmetal Megatron who has ankle tilts, articulated fingers, an ab crunch, shoulderpads that fold up out of the way for more poses, a head on a neck ball-joint, opening tyrannosaurus jaws and moving tongue, separate, articulated t. rex fingers for waggling, a t. rex head that can look up and down and left and right, and swappable robot head faces. And electronic lights in both heads for glowing eyes! Tap the magnetic end of his large effects part for his tail blaster on either head and the eyes will turn on and glow. (Mine arrived with dead batteries, so I had to swap them out with new ones first.)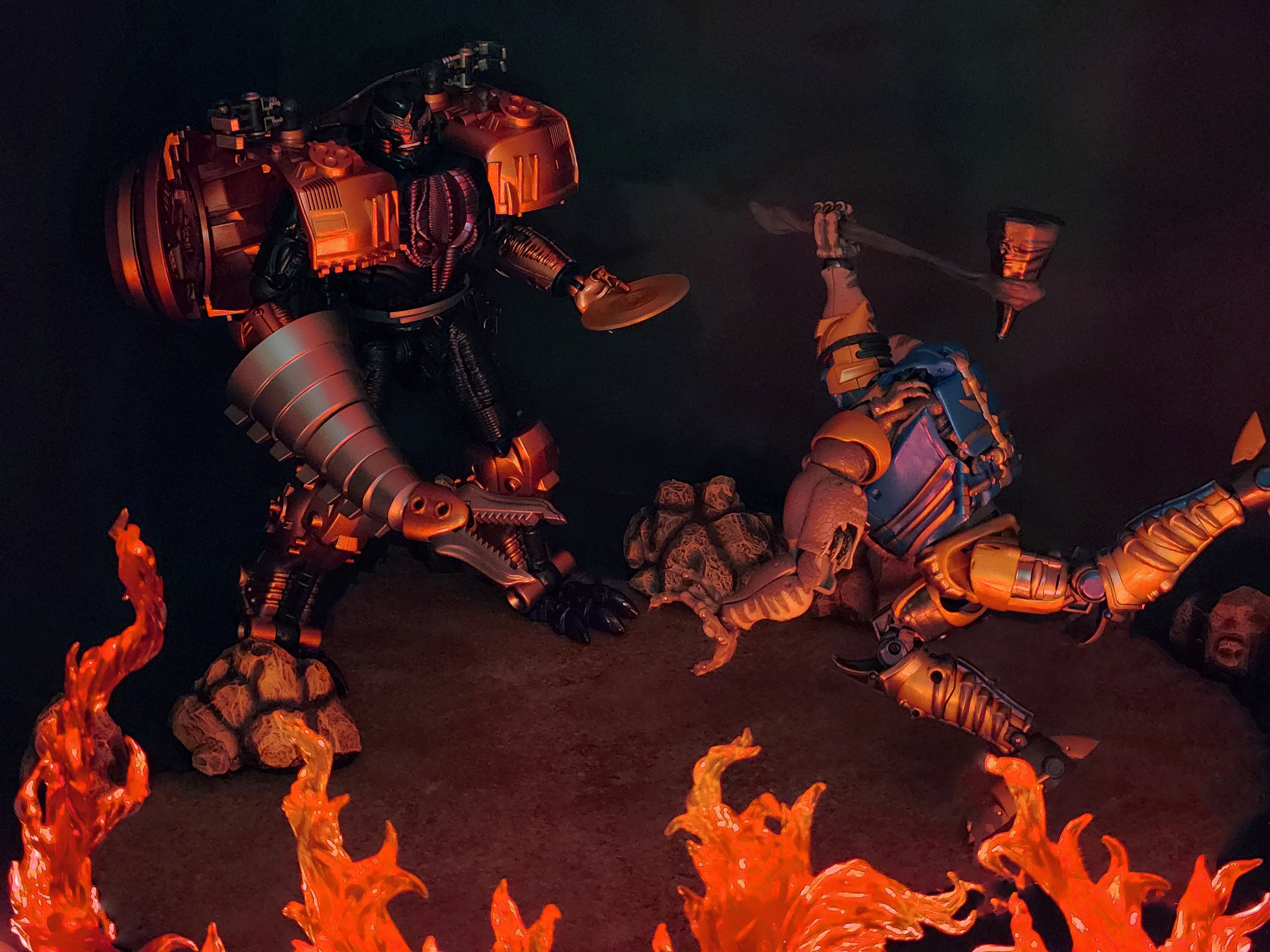 He's also got finger guns to replace the t. rex fingers for when you want the robot mode to use the tyrannosaurus arms as blasters, plus a Golden Disk shard projector that replaces the tip of his tail, for when you want Megatron to show Ravage home movies of G1 Megatron.
The toy does include two tails, one for each mode. There's some... size changing between modes, and so you do have to give him the larger tail in tyrannosaurus mode and the smaller tail for robot mode. A little disappointing, but understandable when you have him in hand and see how incompatible the sizes are. The larger tail can also store the extra faces and tyrannosaurus finger guns.
And he's MP-scale, so he's, you know, large. A bit taller than MP Season 1 Megatron, who's already pretty huge.
I did have to do some customization, paint-wise, when he arrived. Some parts of his faces aren't adequately painted, and so I opted to add some gunmetal to his helmet and around his eyes, plus separate his teeth on his smiling face with some black. There's also a few chrome hits on his shoulders and legs that were neglected, but I haven't gotten to those, nor are they as important to me. Maybe if Toyhax does some labels to fix those up, I dunno.
But he's probably my favorite thing. If our house had a fire and I could only grab one toy, he'd be in my top five. (his size, realistically, is what'd keep me from putting him at #1, he'd be kind of a liability to have to drag around, plus, like, what, do i keep his extra tail in my pocket, or)
TransArt is doing a second run of him later this year/early next, so there's still opportunities to get him. I think the second run will come with stickers for his various eyes, since many of him have had trouble with his electronics.