Posted March 10, 2019 at 6:41 pm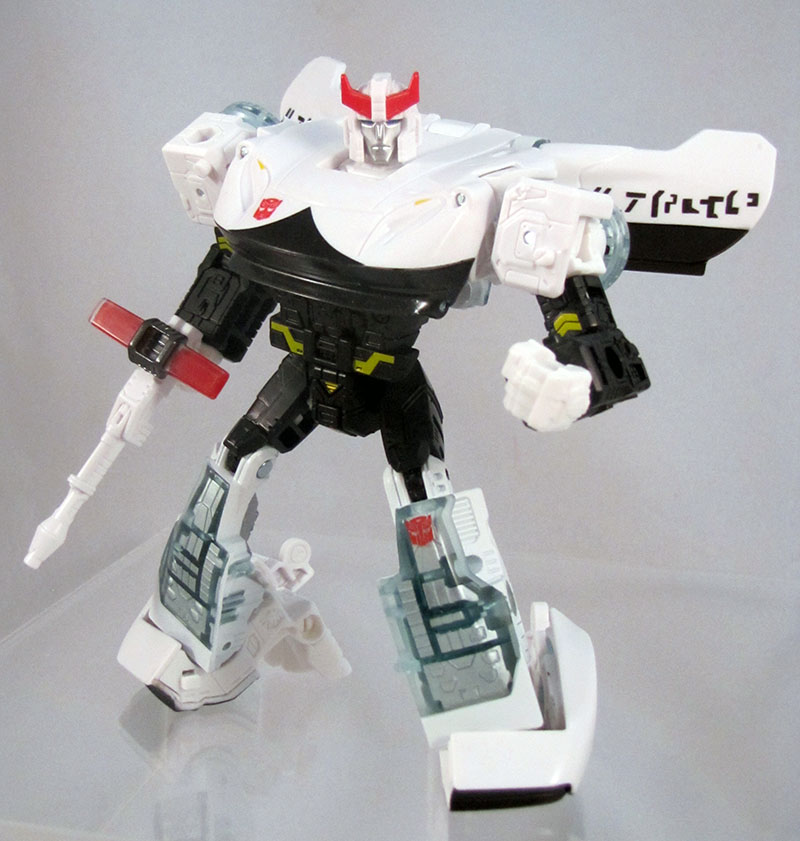 Transformers Stege is just tearing through Universe (2008) Autobots with so-so toys and replacing them with solid entries. Universe Sideswipe, Ironhide, and Prowl were all toys with some problems, and these Stege iterations are just dancing on their graves. (The lone exception is Hound, whose Universe 2008 toy is still nigh-perfect.)
The issue with Universe Prowl was that he was impossible to transform without his door wings popping off. There just wasn't clearance, and the balljoints weren't very secure to begin with. It was easier to just yank those car parts off to begin with before attempting transformation just to get it over with and out of the way. Plus he commonly had some bad paint that reportedly came off in lots of folks' hands, and his painted translucent plastic doors (the ones that pop off) always had kind of a sticky texture to them.
More subjectively, the dude was a little too tall and gangly to read perfectly as Prowl to me. And when I got him off the shelf to take pictures of him for this, apparently he's hard to stand? His heels are not sufficiently large. He just likes to fall over backwards a bunch.
(Note: The Universe Prowl pictured below has been customized with stickers and had his thighs swapped with Universe Smokescreens.)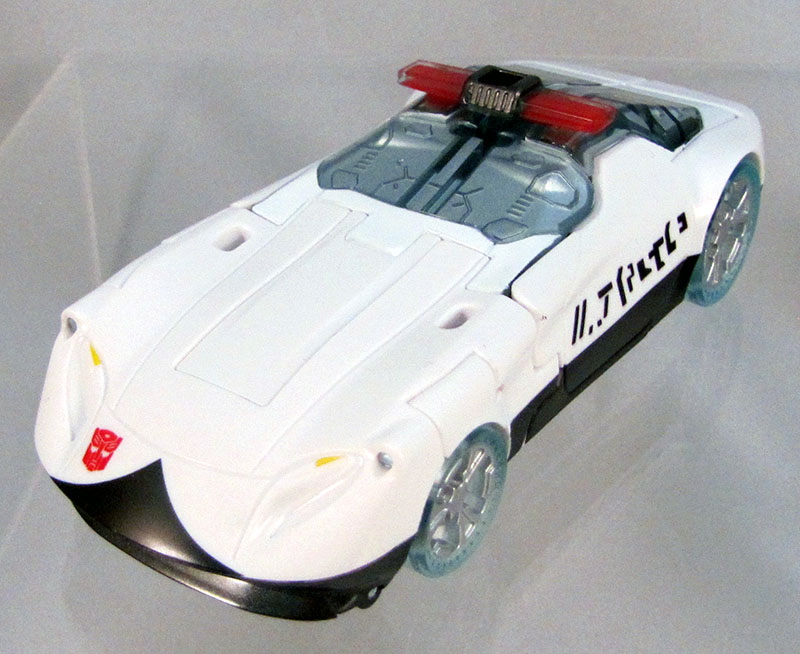 But this new Stege Prowl? I have been excited for this Prowl ever since we got to see stock images of him. He's deliciously short and stocky (the original 1984 Datsun toy has the platonic ideal for Autobot Car proportions, I feel), and he's in a toyline where there hasn't really been an issue with toys being too fiddly or fall-aparty. And sure enough, Prowl's toy takes some cues from Stege Sideswipe's execution. During transformation, everything fits neatly into place. It's very simple. There's no cramming anything past anything else. Nothing pops off. (The only balljoint on him is his neck.) He's just efficient, straightforward, and compact.
The result is a very good Prowl robot mode (with the standard Stege articulation which includes waist and ankle tilts) which transforms into a reasonably space-y police car. I mean, okay, this space police car has Japanese patrol car markings on the hood, but that's just what Prowl looks like, so whatever. I like his giant clompy feet. I like his meaty fists (which are on rotatable mushroom joints). He's got a great look to him.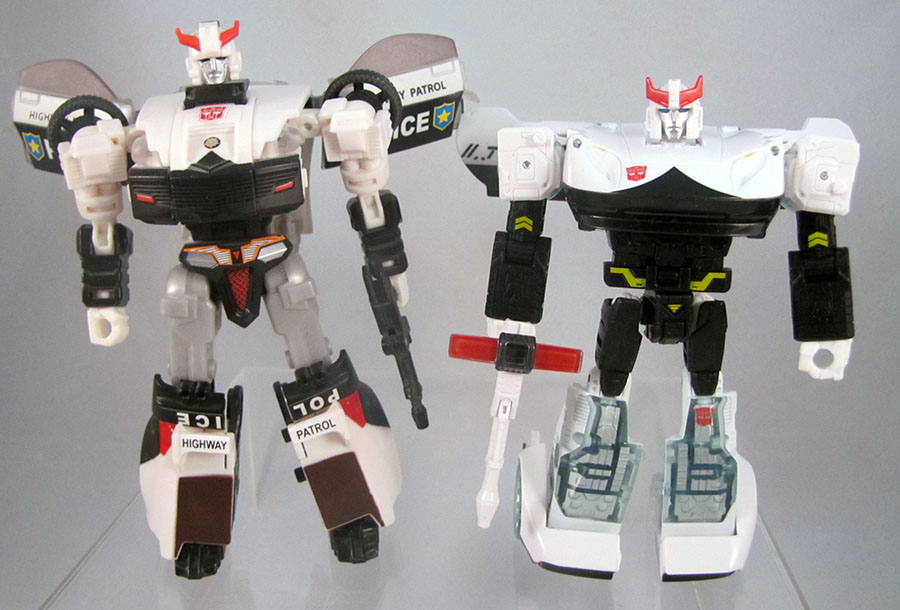 Some people don't like his legs. These people are wrong.
Prowl comes with two accessories. One his his lightbar, which plugs into his roof with a 5mm peg. The other is his rifle. You can plug the lightbar into the top of the rifle. You can also plug the rifle into the top of the lightbar! Or you can, just like, leave the lightbar on the roof in either mode and have him carry his gun around normally without a big flashing bowtie on it, I dunno.
I did make some visual modifications to this guy. I painted his thighs, abs, and gun silver. I'm a big fan of original Prowl's silver accents, but Transformers toys tend to keep Prowl a black/white-only guy, so I tend to have to finish his deco myself.