Posted August 25, 2015 at 7:00 pm
I've probably mentioned it in this blog before, but when I was a kid, I designed a Transformers combiner. Powermaster Optimus Prime and Pretender Classics had just happened, and I noticed that we were starting to get old guys (Bumblebee, Jazz, Grimlock, Starscream) redone as new toys with current gimmicks, and I hatched a plan to get me other new toys of guys I wanted years earlier but never got toys of. And so, using allll the creativity that a ten-year-old can muster, I designed a Transformers gestalt guy made of Ratchet, Ironhide, Prowl, and Wheejack with Optimus Prime as a torso. It was very creative. So wow.
Anyway, twenty-five years later, the dream is nearly being realized. I've got my Ironhide and Prowl, Wheeljack's coming, and there's some art of a possible Ratchet that leaked, and of course there's Optimus Prime. I am so into this. I want everyone to be a combiner. I want to rebuy my entire Transformers collection as combiner limbs and torsos. Combiner Wars is the shit.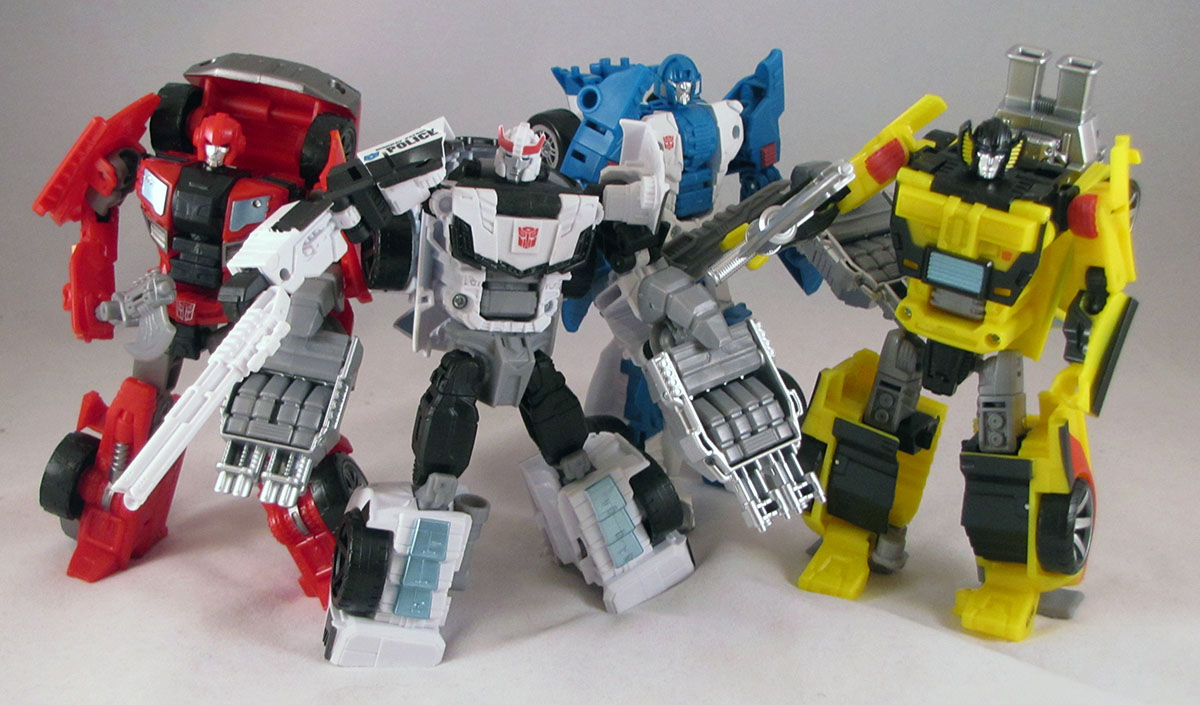 Anyway, all these new limbs here (Ironhide, Sunstreaker, Prowl, and Mirage) are retools of the Stunticons. Ironhide was Offroad, Sunstreaker was Breakdown, Prowl was Dead End (well, okay, he's a retool of Streetwise who's a retool of Dead End), and Mirage was Drag Strip. They all get new heads. They're officially supposed to combine with "Battle Core Optimus," a white redeco of the first wave Optimus Prime torso with a new also-Optimus-Prime head retool, but I'm cool with the first wave Optimus Prime I already have. My childhood combiner guy didn't have a white redeco of Prime in it. Also Legends Class Rodimus forms the chest armor. Sort of. He likes to not stay on so well.
My favorite of the four is Sunstreaker, since his toy incorporates the big fist/foot/cannon accessory into the robot mode itself. Plus Sunstreaker's yellow, and you know me and my yellow.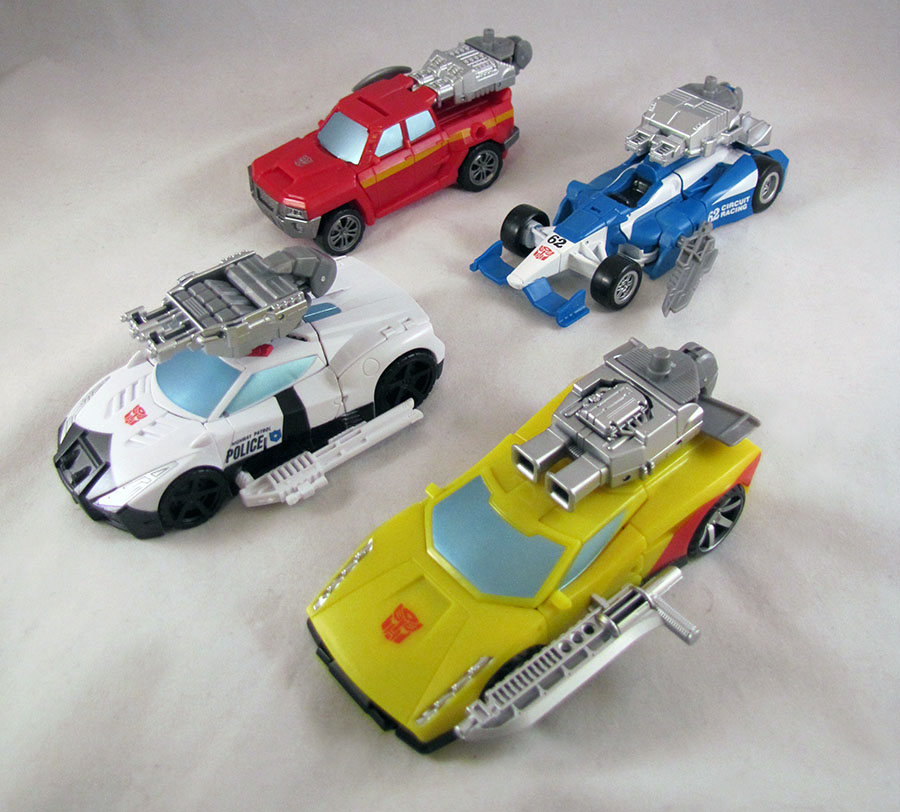 One thing I don't like is how the fist/foot/cannon accessory on each of these guys is split up between silver-painted plastic and silver plastic. Some of the plastic in these toys are nylon for structural integrity reasons, and nylon won't take factory paint, but it still makes the weapon modes of each toy look even less cohesive than before, like a piece of gun with some fingers in it. It's just more conspicuous. Which, again, is why I'm happiest with Sunstreaker, who can peg his fist/foot/cannon accessory onto his back.
I've seem some folks complain that we're getting new toys of these four guys when we already have toys of them. Well, maybe you do! Those toys came out in 2008! That was a while ago! And, like my childhood self, sometimes you don't get to get everything you want during the first pass, so second chances are nice. And it's even better if these second chances combine into a larger robot.
Now where's my Wheeljack and my Ratchet?