Posted December 28, 2020 at 4:03 pm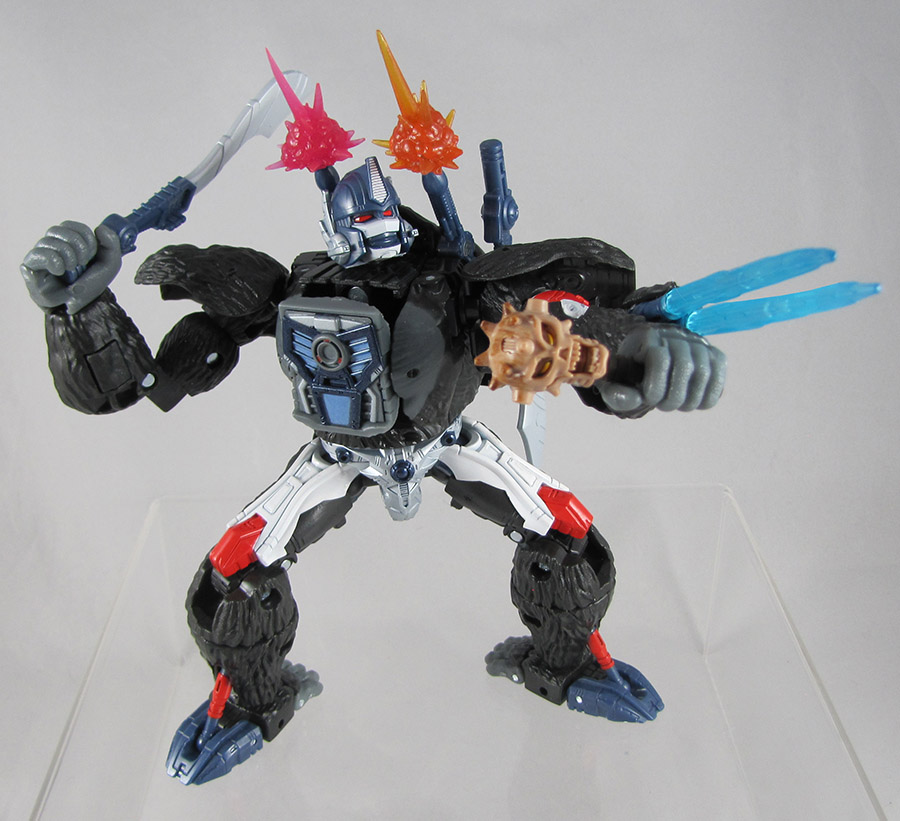 Kingdom Optimus Primal is a lot like Studio Series 86 Hot Rod in that they're large deluxes done at Voyager Class pricepoint to do the designs justice. The original 1996 Ultra Optimus Primal is known for packing like sixteen billion gimmicks into a pretty simple transformation. That at the time was the trade-off for Gorilla Mode Stands Up Into A Robot, the packing his arms and torso with Shit To Do. He had that geared lever in his back that made his forearms rotate, which was only accentuated by the various different weapons he came with that you could place in his hand to have his forearms manipulate -- He came with two swords which stored inside his torso, and a skull-faced flail was stored in his forearm. His other forearm could open to reveal two missile launchers. Two more missile launchers spring-launched out of his back flesh.
The counterpart, Ultra Class Megatron, transformed much more intricately but contained a smaller number of gimmicks. Water squirter! Hip-launchers! The end.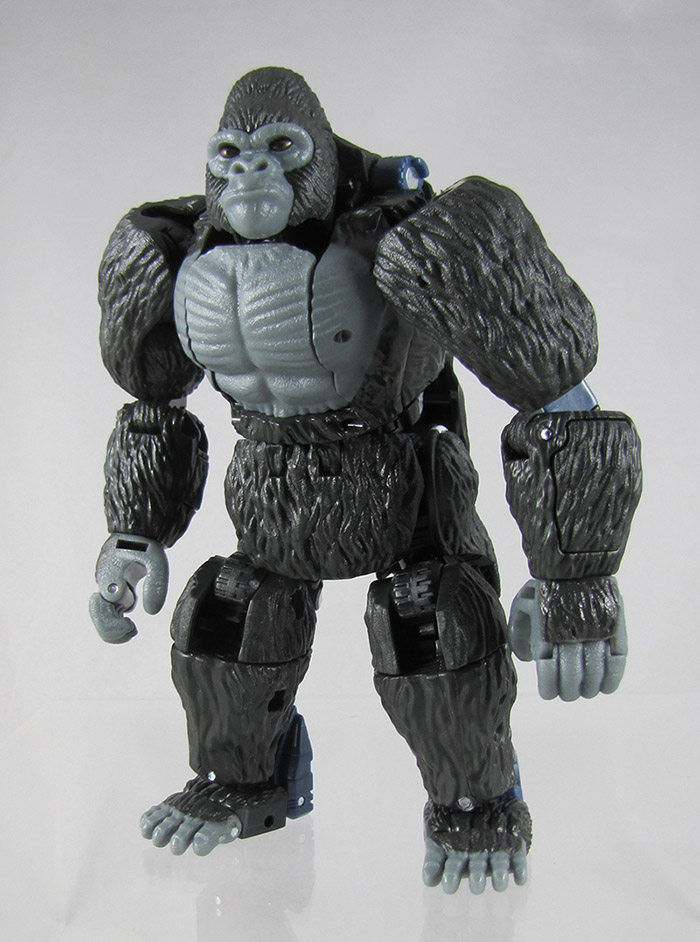 Optimus Primal actually got most of his toy's gimmickry enshrined forever on the television show, so he's always gonna feel like he needs that stuff to be complete. And so Kingdom Optimus Primal retains the over-the-shoulder launchers, the forearm cannons (on both forearms, like in the show), and two swords. The skull-faced thingy is actually the head of Paleotrex, but it's available, which is honestly surprising. (The skull mace didn't come with the first Masterpiece Optimus Primal, since that wasn't a weapon used on the show, but did come with the anime-colored redeco.)
Unlike Kingdom Blackarachnia, Kingdom Optimus Primal doesn't take many cues from his respective Masterpiece toy. It transforms closer to the original, as there's no flipping the chest piece out of the stomach or any of the creative mass-adjustment with the legs. And like the other Beast Wars characters in Kingdom, Primal's beast mode attempts to achieve a look closer to animal realism rather than recreate the CGI animal models, and so he's all fluffed and hairied up. One advantage to being able to Do Things Differently is that Optimus Primal's white/red robot biceps can actually be covered up by his gorilla shoulder pads! Usually there's a tiny bit peeking out, even on the Masterpiece. (The Masterpiece's shoulderpads have to be a Certain Shape in order to achieve robot show accuracy, and it's not very optimal for covering up robot parts when folded down.)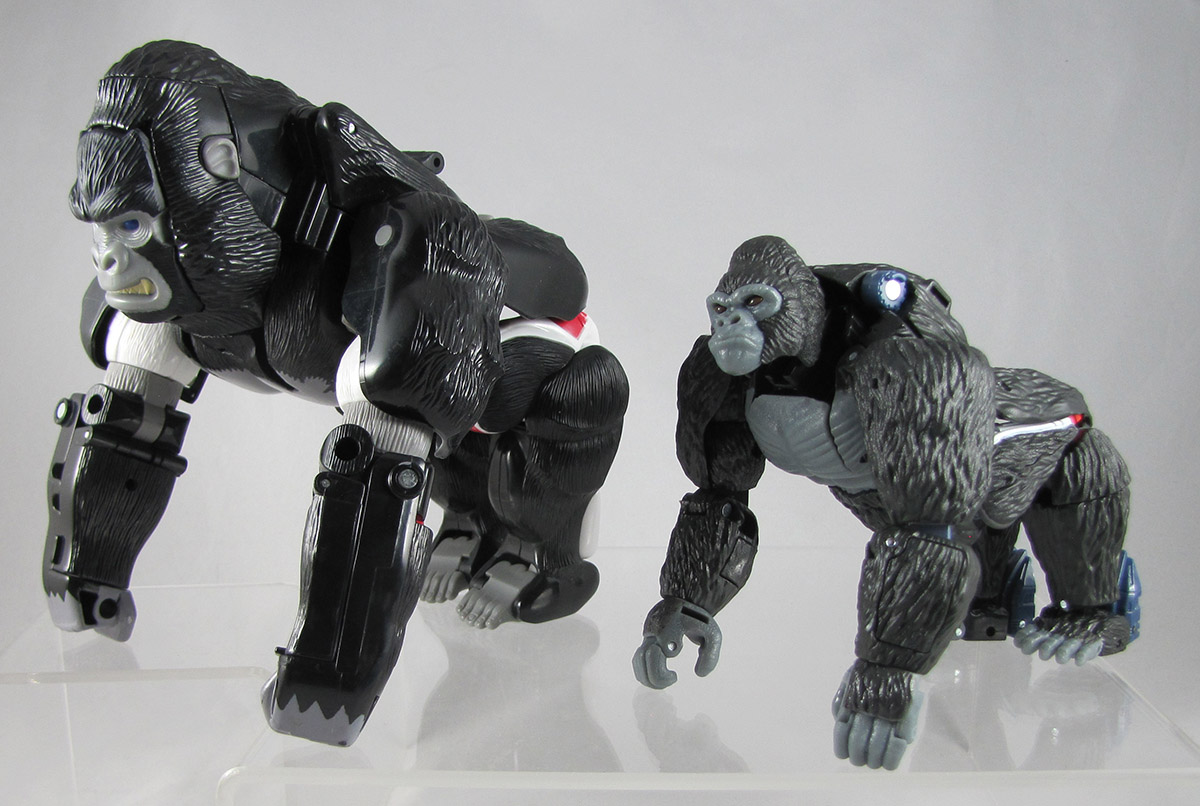 As a result, Kingdom Optimus Primal has a better-than-usual gorilla mode. Except for a stripe of white robot thigh unhidden along the torso, you've only got the robot feet (behind the gorilla legs) and the hinges of the shoulder launchers left peeking out. The gorilla mode has two official stances -- An all-fours mode in which the toy folds together to create a gorilla with a more naturalistic sagging curve to the torso, and a standing mode which you can achieve by untransforming the legs a little and folding the knees differently.
I did have one annoying problem when transforming him. Primal's thighs are painted white over black, and painting white over black requires... a thicker strata of paint than usual? And so while trying to wiggle his legs into position under the slab of gorilla back, I apparently tore a bit of the white paint off. I was a bit cheesed! I'd had the toy for like three seconds. I was able to grab my own white paint and fix what I'd wrought, but still, be careful. Make sure you aren't dragging any sharp surfaces over those thighs when you transform him.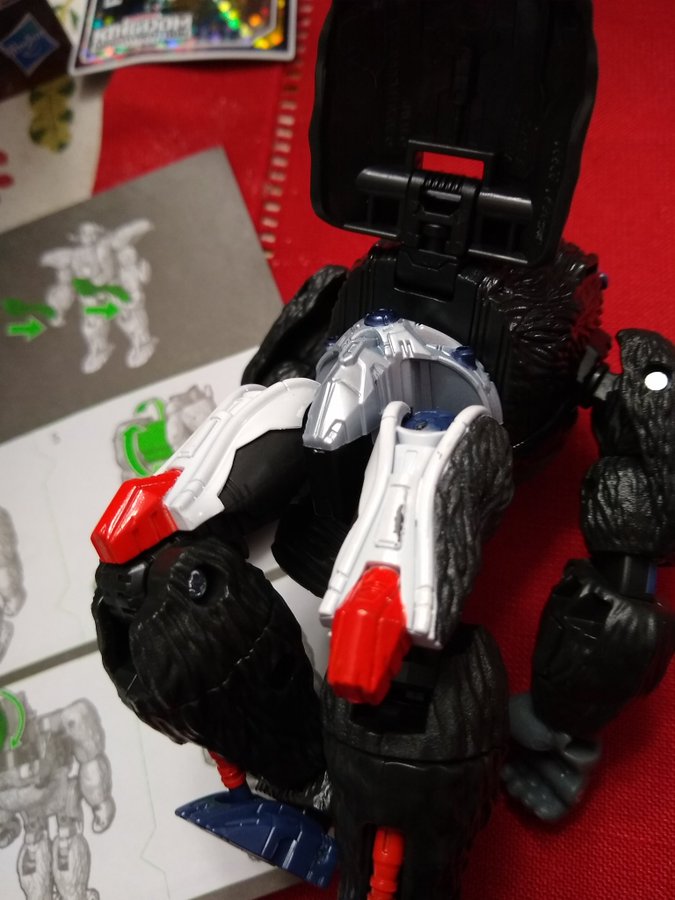 I am pretty damn impressed with the amount of paint they have on his chest. The paint operations there are very intricate and replicate the complicated CGI cartoon patterns perfectly. There's even the tiiiiiiny red details surrounding the circle in the middle of his chest. That's three paint operations right there! And for something you have to squint to see.
I also genuinely love that the pin through his chest that his robot chestplate rotates on pokes out through his pecs just at the right spots to look like nipples. Lol.
I do wish his pecs weren't sculpted to look so tendony, like they're skinless Rob Liefeld thighs or something. I would have preferred something sloppy and fatty like on a real gorilla.
As far as 25th Anniversary Beast Wars toys go, Kingdom Optimus Primal feels like a great celebration. He's essentially everything you'd want or need at the scale. And he looks impressive and expressive. Grab some of those effects parts you gathered up in Siege and Earthrise, you're gonna need them for all his 3mm ports.