Posted November 13, 2018 at 12:44 am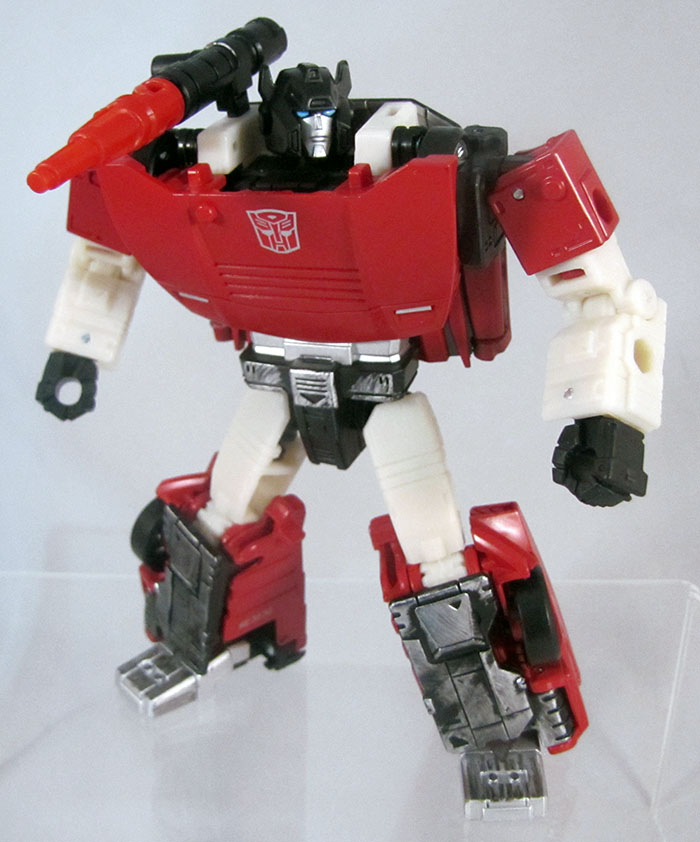 Sideswipe is not an interesting character! I can think of, like, one good Sideswipe story out of all three decades of Transformers fiction, and he dies in it. Even his design is kind of the Default Transformers Look. You fold down the hood, yank the arms from the sides, and pull out the legs. The end! But he was the Red Sportscar Guy in 1984, and that's always given him an artificial sense of importance.
And so when War for Cybertron: Siege (aka Stege) was first unveiled, and Sideswipe was part of that unveiling, I had to fight back a yawn. (I failed.)
But I am here to give you good news: Stege Sideswipe is GOOD. Oh my gosh, I really like him. I hate that I like him. It's like when somebody you dislike on the Internet says something you agree with, and you're torn between going ugh, fine, and wanting to alter your entire worldview just to put yourself on the opposite side again. I really like Stege Sideswipe, and so I worry I'm a bad person.
Let me try to explain why. I think it's the transformation. There's a lot of car Transformers where you kind of have to fight and fiddle to figure out where, say, the arms go. And they maybe sometimes just kind of fold under loosely, sometimes it's a fight, and you hope for the best. But Stege Sideswipe's arms are a dream. They fold into little Ls, you tuck the fists in as far as they go, and they just... fit underneath in an extremely satisfying way. There's no fighting over the same physical space. There's no forcing them over other parts. And then some car kibble folds down over the biceps and plugs in, securing them.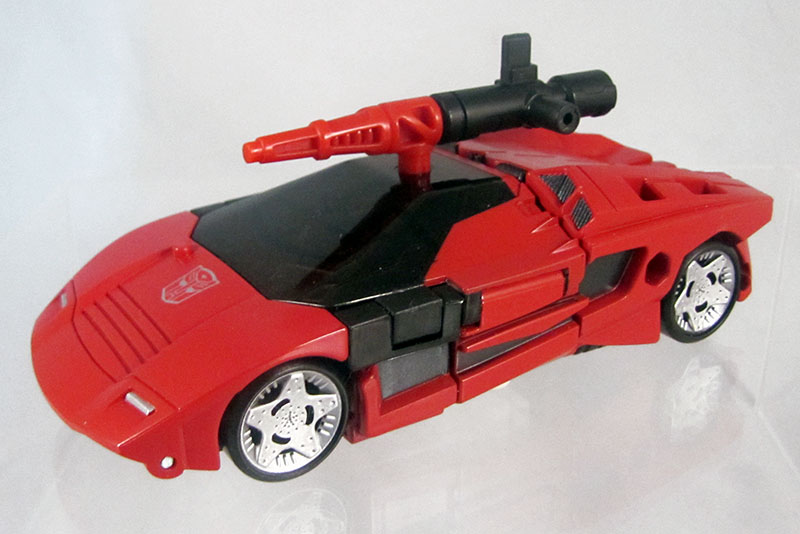 The leg transformation is pretty good, too. you pull out the front leg panels, smoosh everything inside in layers, and close the front leg panels back again.
Again, it's hard to state exactly how satifying everything is.
Sideswipe has 5mm pegholes everywhere so you can plug in parts from other toys in the line. There's one on his back, one underneath each foot, one on the outside of each shin, and one on both his shoulders and forearms. He's also pretty well articulated for a toy his size. He's got ankle tilts, which seems to be standard in this toyline, which really ups his shelf presence.
He's supposed to be a Cybertronian-style car, but he passes for a fancy concept car from Earth if you squint. He's going on the shelf with my other Earth car guys, so that's fine by me.