Posted November 2, 2018 at 3:15 pm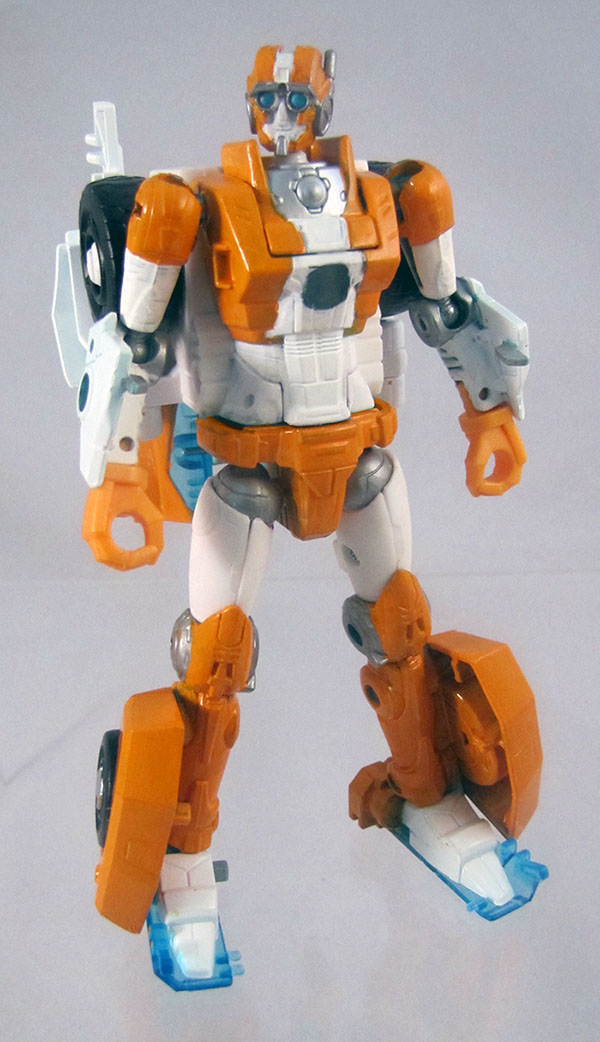 Transformers has a storied history of adding in non-toy characters to help the narrative along. Sometimes all the "real" characters in the toy range don't give you what you need in your story, and so you gotta make somebody up. Need a big warlord-type Big Bad, but 1985's product offering is already accounted for? Then say hello to Straxus! Need someone who needs to look unimpressive and also someone you can kill immediately without Hasbro getting fussy? Then say hello to Scrounge! He transforms into a wheel! It doesn't matter that he transforms into a wheel, because he doesn't have to be marketable on the toy shelf. He's just there to be in your story.
The flipside is that these fiction-only weirdos sometimes become popular. Like both Straxus and Scrounge. Both eventually got toys, though Scrounge's took longer. (And it was just Cosmos in yellow, since Cosmos is a, uh, round-ish UFO guy.) The Rule of Cool means sometimes your favorite characters are never going to get toys. Or if they do, it might... take... a while.
So, hey, say hello to Rung. He's a quiet, even-headed psychologist, and he's a skinny nerd in glasses who transforms into a stick. A stick. PROBABLY he's not on Hasbro's shortlist, despite having been preeeeeeetty important in the past several years of Transformers comics. Because, you know. Glasses nerd. Stick.
But he's pretty important, so I had to go make my own.
It took until Power of the Primes Moonracer/Novastar came out that something suitably skinny with kibble put in most of the right places was available to modify. Transformers toys are mostly male, and being male-coded means your toys either get Bruce Timmish superhero proportions or you're just a big solid block. So, yeah, thank goodness for Moonracer's slight build.
I gave Moonracer the orange fists from Novastar and then painted the rest of her Tamiya Orange and Flat White, with some silver Sharpie in places for trim color. I left a circle on her translucent blue plastic stomach unpainted, 'cuz Rung's got one there. I did paint the toy everywhere, including the vehicle mode parts on the bottom of the feet and on the back, so in theory Rung could transform into an orange and white car. But in practice, I think I paintlocked him and I don't feel like wrecking his finish just to put him into alt-mode. Besides, dude rarely transformed anyway. Remember, stick.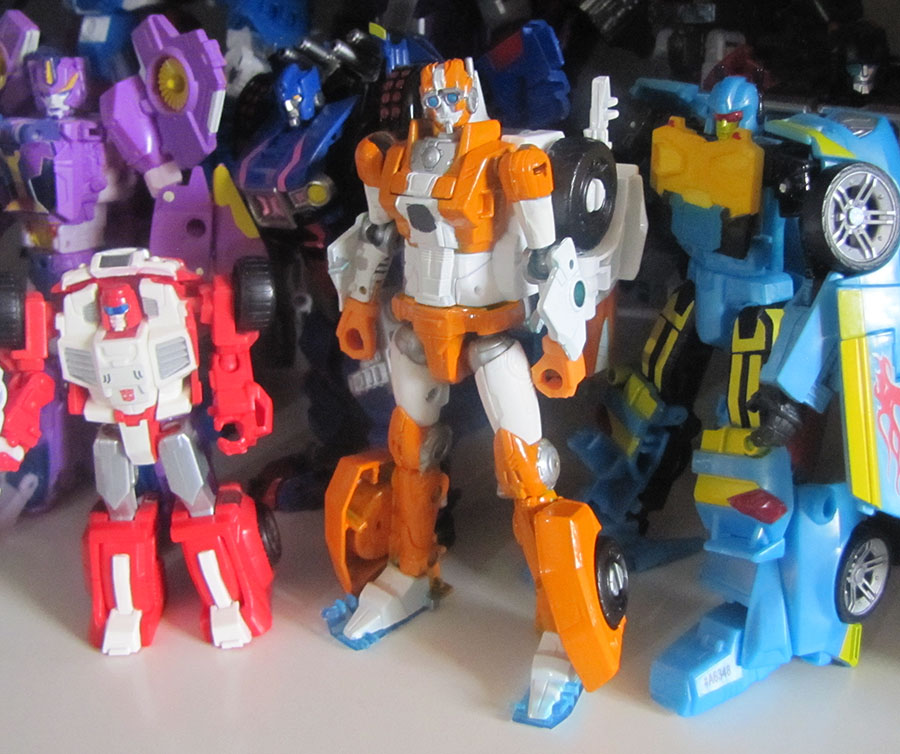 For the head, I went to my buddy Trent. I commissioned a Rung head from him using measurements I took of Moonracer's head, and he put together a CGI model we can 3D print off of Shapeways. You can find it here! Moonracer has a 4mm balljoint on her neck, so this head will also work with any other toy that has a 4mm balljoint neck, such as Power of the Primes Wreck-Gar, now showing up at Walgreens.
And now Rung can hang out with my other Lost Lighters!
I mean, if Hasbro actually eventually made a Rung toy, I wouldn't say no to it, but this'll make me plenty happy regardless.