Posted October 13, 2016 at 10:01 pm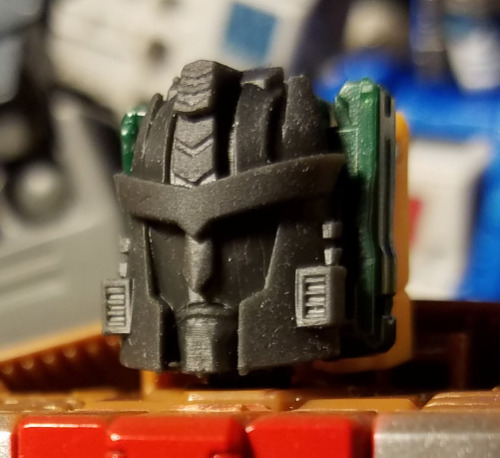 Yay, 3D printing! It's getting to be not-crappy! Now that Shapeways (the online 3D printing folks) has introduced a new material, black high-def acrylate, and my pal Trent Troop had a Dinobot head to purchase, I was like, yes, I will try this thing.
Shapeways' high-def acrylate, which currently only comes in black, is pretty close to looking like normal-ass molded plastic. You don't see any layers in the plastic, like you're looking at a toy made out of lasagna, and the sculpted detail is very fine. The only downside, at least for this project, was the piece comes in black, and I needed to make it gold and blue. This meant.... base coat layer! I was painting like some kind of adult, with preparedness and forethought and everything. Whaaaaaat. Luckily I had some medium gray acrylic paint sitting around from when I was painting up my BotCon Ratchets.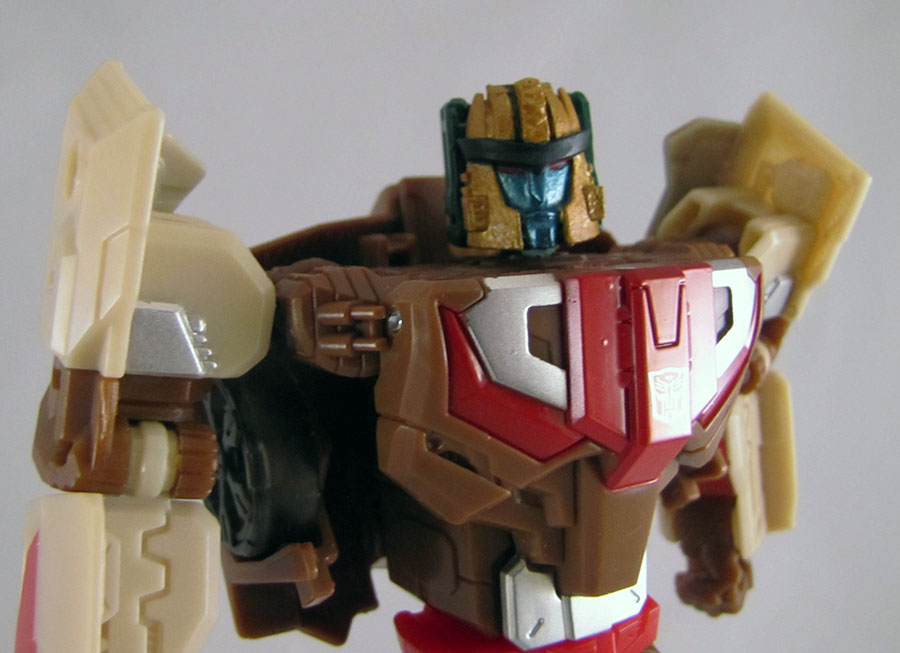 After that, it was only a matter of getting the gold and metallic blue paint on there. After using plain-ol' Gold Leaf, I decided the gold needed to be a little more orangey-er, and so I mixed some orange into my gold and painted it again. At this point, I think I've started to lose a little of the sculpted detail, but, eh, I don't feel like scraping it all off and starting over. It looks nice, though! I like it.
Trent/TheRobotMonster's got over 100 heads to choose from in his Shapeways store. There's some Optimuses, some Pretender Monsters, Skeletor, the goddang Sogmaster, Krang, Rung and Tarn... there's a bunch there. And all you gotta do is screwdriver away the head on the Titan Master toy itself, replace the head with the new one, and screwdriver the screw back in. Easy cheezy. You can make any Titans Return headmaster guy into Dinobot. Or the Sogmaster.