Posted September 5, 2022 at 11:26 pm
Last time, we talked about Override, and today we're talking about Legacy Deluxe Class Elita One (spelled "Elita-1" on the packaging because Hasbro doesn't care about parsing Transformers names correctly the way I do), so we're going from Lady Transformer With Head Hat On Car Roof to Lady Transformer to Head Hat On Car Roof! Those lady Transformers sure like putting their head hats on car roofs! Elita's is removeable (and isn't her actual forehead, unlike Override's) and can plug into anything with a 5mm port. It's just there to make her vehicle mode look more like her animation model.
Though technically it makes her vehicle mode look more like... fan art of her animation model? For decades, we didn't have access to Elita One's actual animation model (and we only see the front of it in her one episode), so at least one enterprising fan artist took a crack at it, and arrived at a very short car mode that... this toy seems to be based on? It was only in the past year or so that we've been blessed with an actual animation model and the... much more elongated actual car mode Elita One was designed to have. I mean, both the fan art and the actual model have the head hat on the roof, but, like, dang. Hasbro. Check your sources.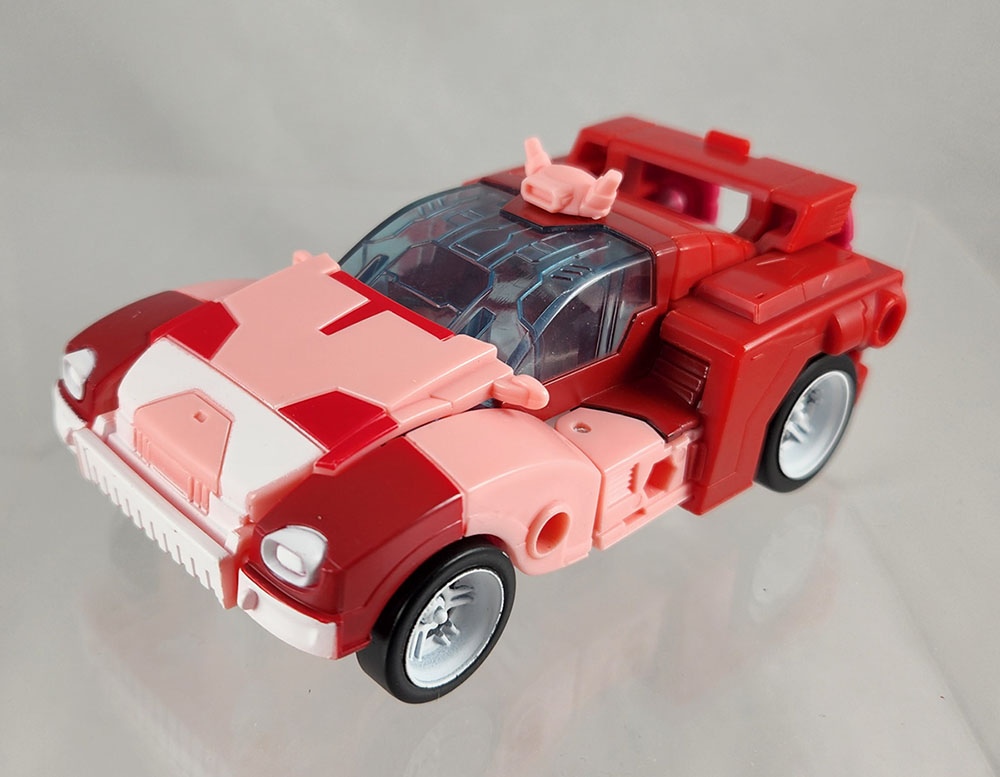 This is the first Elita One toy to be based on her animation model while also transforming into a car! We've got a retool of Starscream from back in Power of the Primes, and that became a jet, and I still adore that toy, but this Elita One is getting back to basics. She's a car! She's a car with her forehead on the roof. The forehead on the roof is important. Did her Power of the Primes jet mode have her forehead on the fuselage? No!
After that weird half-step of Netflix's Elita One, it's also nice to have an Elita One who, like, looks like Elita One. Her torso's actually got sculpted detail that looks like her! She's got her collar and the T on her tummy, and the crotch fangs... it's all well-appreciated. She does borrow Netflix Elita One's shoulders, but that's fine. And also her legs ... become the actual back of the vehicle, rather than being slim lady legs that tuck underneath somewhere? That's more than fine! It's off-model, but it's way preferable. I love some good stomping boots. One Arcee is more than enough, we don't need a second lady Transformer that piles the entire vehicle mode on their ass just so that they can have shapely calves.
Elita One comes with two rifles: one that's based on her pistol from the cartoon, but elongated into a more substantial weapon, and one that's Minerva's. Elita One is going to be retooled later as Minerva, with a new headsculpt and presumably released as a Walgreens exclusive. (they like their medic Transformer exclusives) So that Minerva weapon's built in. Elita One's backpack also has two configurations for this reason. You can bunch it all that car hood stuff up behind her, out of sight, or you can extend the outer thirds into taller shoulders that kinda-sorta-mostly remind one of Minerva's taller car door shoulders. A similar silhouette, if you will. I'll use that configuration on Minerva, while keeping Elita One's backpack compact.
My only real complaint about this toy is... it's not tall enough? Elita One is, like, Ironhide height, while this toy is regular Autobot car height. A weird misstep after years of hitting scale at any cost. And it's not like she's smaller to synchronize with Minerva -- Minerva's Ironhide height, too! She stood next to Perceptor once. Anyway. I dunno.

A very satisfying Transformer, regardless. She's a female Transformer but, like, with vehicle mode parts that become her limbs. whaaaaaaaaaat?????