Posted July 5, 2020 at 10:53 pm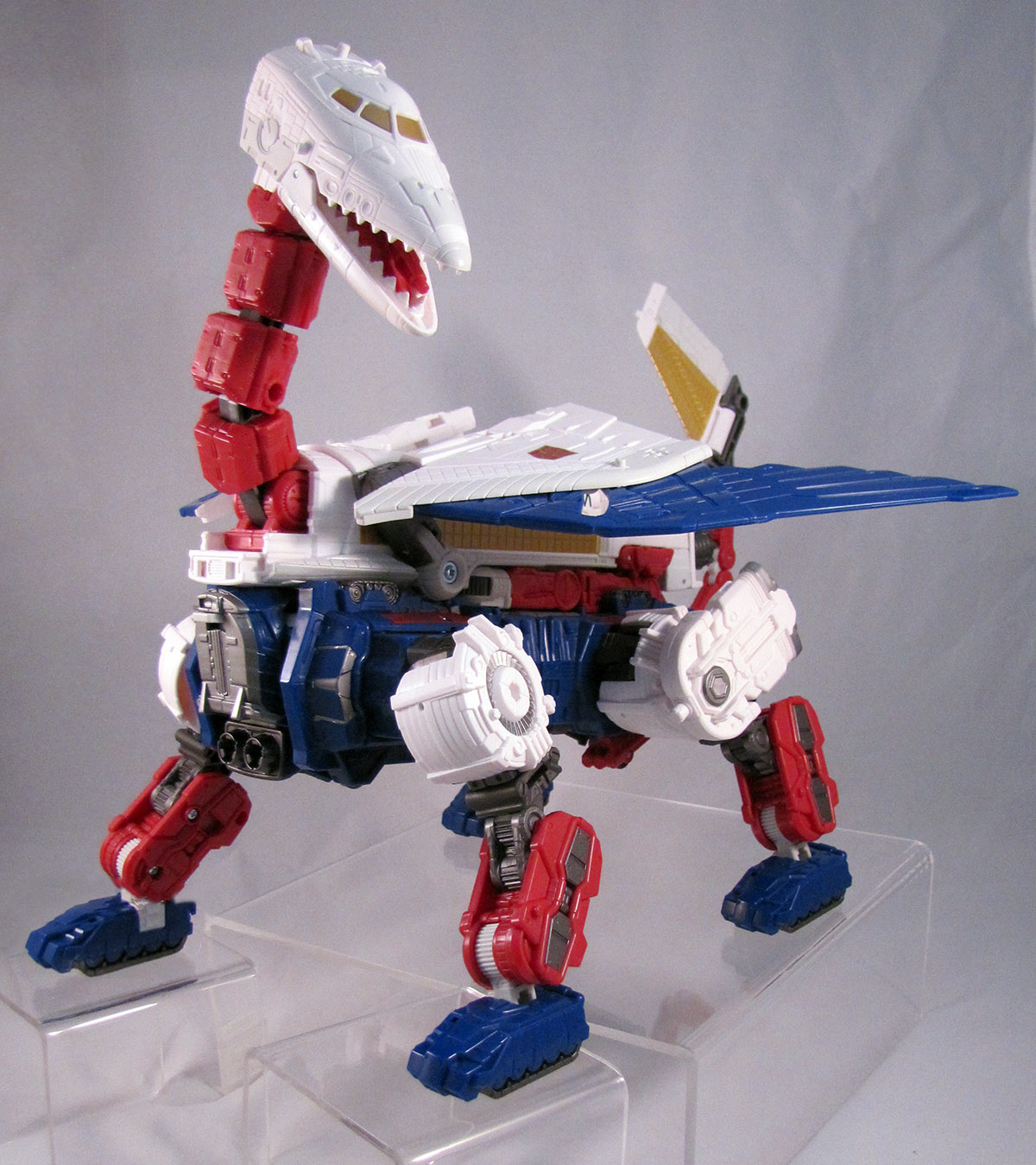 When a new $80 "Commander" size class for Transformers was announced last year , just so that a Jetfire toy would be at cartoon scale, the amount of eye-rolling in my reaction was non-zero. I mean, sweet, new size class, yes, and yeah actually I do like scale, and the Jetfire it produced was actually surprisingly good, but... what else could this new avenue bring us?
Well, David of the past, nuts to you, because this year's Commander Sky Lynx is glorious, actually. And it's largely due to his size. He's just... an enviable chonk of Sky Lynx. He's a big dude! Well, two big dudes that combine into one bigger dude. ...fine, one bigger dude that separates into two smaller dudes. You know what I mean. He's a lynx. He's a bird. He combines into a dragon. The dragon transforms into a shuttle on a transport. The shuttle can detach from the transport. There's a lot going on here!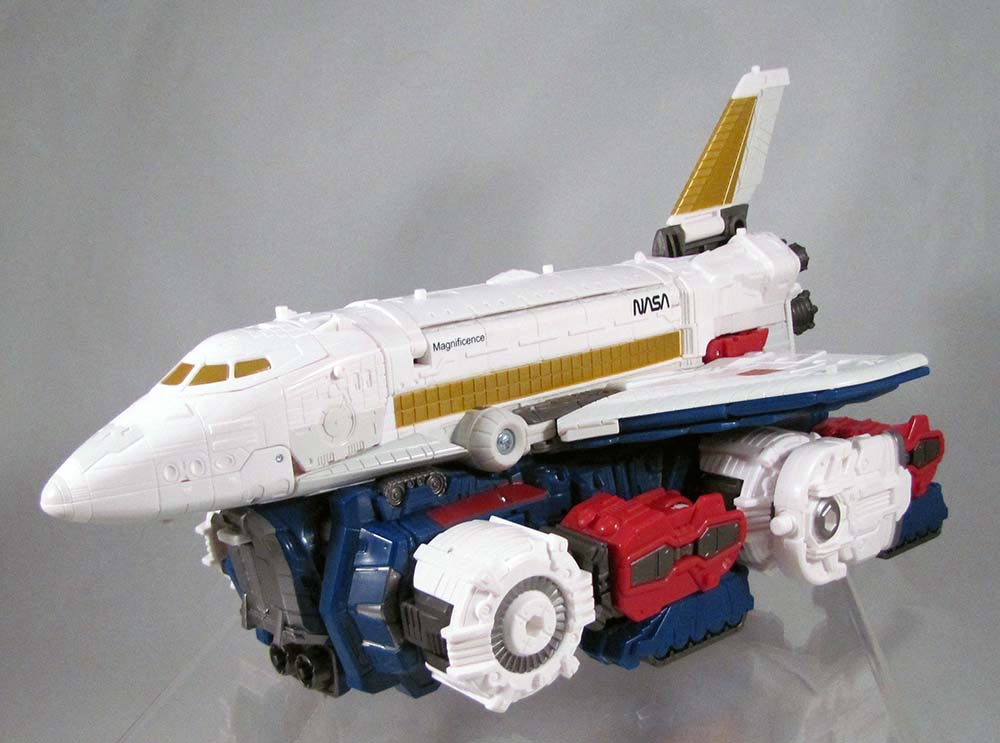 There's apparently a lot of budget room to work with on an $80 Transformers toy. Jetfire spent its moolah on a lot of smaller things like hands that disappeared their 5mm ports when the palm opened and little handholds for smaller Transformers to hold onto while Jetfire airdrops them into battle. There aren't many things exactly like that on Sky Lynx, but he feels like he has a robust budget all the same. His poseable neck and tail, the ankle rockers on all six of his limbs (the bird has two), the myriad of ways you can pose his wings... Sky Lynx is just impressive.
Because he's a large Earthrise toy, he's got a new base mode. You unfold the lynx into a shuttle launch pad with multiple ramps! The ramps each have connectors to attach to other EarthRise base modes. There's two broad white cannons you can awkwardly attach to the lynx feet in this mode, helping you pretend these are towers and not, you know, feet. This is probably the weakest aspect of the whole arrangement. In lynx or dragon modes, you can attach these cannons to his hips.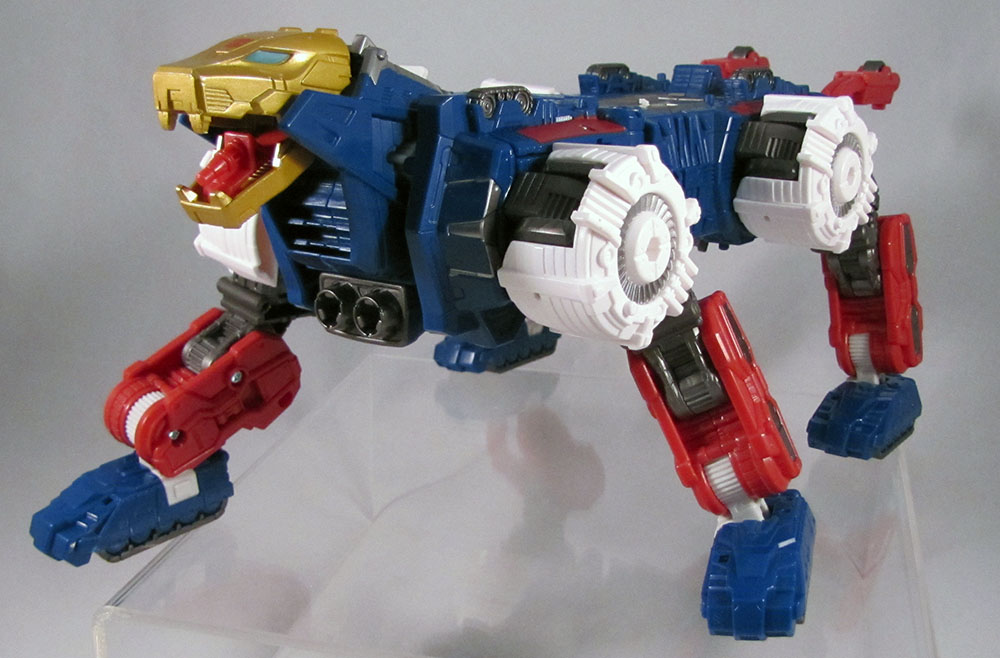 One of the biggest joys of Sky Lynx is standing other guys next to him and getting this sense of scale. Again, he's a big guy, and it's neat to see Optimus Prime small next to him. Plus, like, huge winged dinosaur thing. And, yes, his face is just a shuttle cockpit with a jaw, but it still possesses this shocking charisma.
EarthRise SkyLynx's altmode is actually licensed by NASA. Like, it's got the NASA logo on there, and on purpose, and he transforms into a very accurate 80's style space shuttle. His shuttle name is the Magnificence. Later this summer, there's a pair of Micromasters that transform together into a shuttle which also have the NASA logo printed on them, so Hasbro went for broke this year, NASA-wise.
I'm just always delighted to see this thing on my desk. I need to eventually put him away where he needs to end up in my display shelves, but he's just gonna be mostly hidden behind so many other guys, and I'll be sad. I put him there once just to make sure he fit (he did, amazingly), but had to yank him out soon enough so I could love him more.
Though it's also possible I'm just going mad from being inside for 4 months, I dunno.