Posted July 15, 2020 at 10:15 am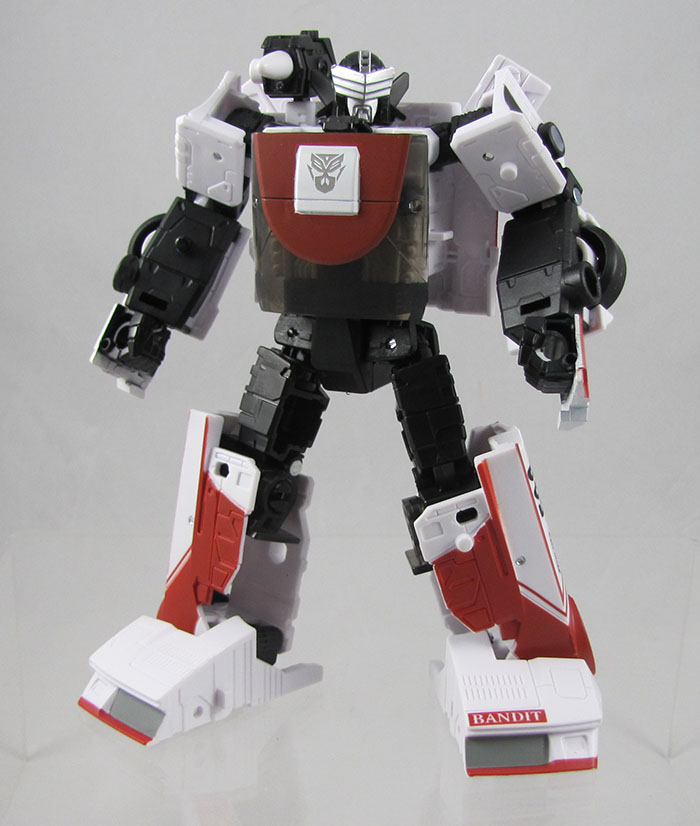 The early 80s were a wild time! For example, you could sell a kids toy robot that transformed into a racing car with the logo of a cigarette company painted across it. In Japan, a variant of the toy that would later be repurposed by Hasbro as Wheeljack had a new head, plus Marlboro's distinctive red and white angles across the hood. Marlboro was misspelled (probably purposefully) as Marlboor, and so the little guy was known in collectors circles as Marlboor Wheeljack.
It wasn't until 2015 that TakaraTomy tried to integrate Marlboor Wheeljack into Transformers proper as Exhaust. A retool of Masterpiece Wheeljack (so that he got the new head), Masterpiece Exhaust's photos promised a slightly altered arrangement of the hood deco. But, whoops, that wasn't enough, and Marlboro had them change it even more. The toy was released with a weird stairsteppy version of the usual clean red angles.
Five years later, we've got Generations Selects Exhaust! A retool (again, for the new head) of EarthRise Wheeljack, his car mode has an even more Game-Of-Telephoned iteration of the red hood deco. Just, y'know... going that extra mile to not get the attention of Marlboro. There's very little resemblance to the original deco, other than color. Which is honestly fine. Collectors know Exhaust is about cigarettes. He's still got that hint of illicit marketing. And I betcha five bucks ToyHax has stickers ready to go to recreate it.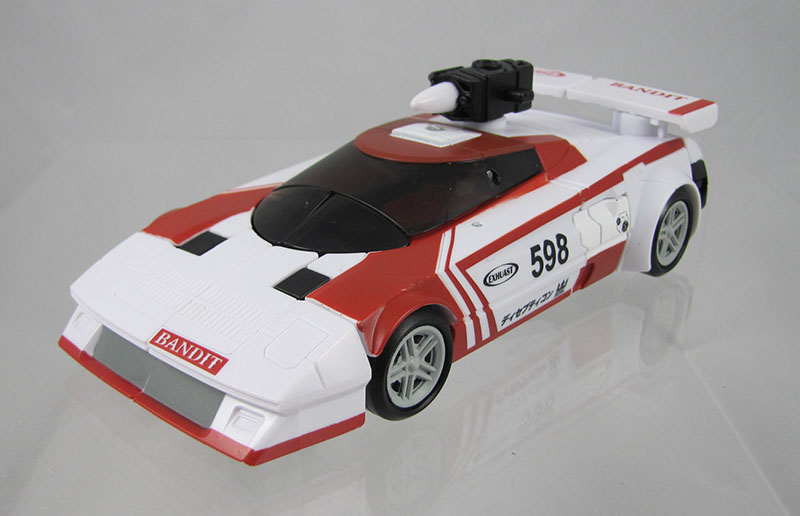 Also, "Exhaust" is misspelled three times on the toy as "Exhuast." Let's... pretend that's a purposeful reference to the vintage "Marlboor" mispelling, and not, like, an accidental typo. Let's pretend it very hard.
Generations Selects is the online-exclusive line of Hasbro toys that's supplemental to the ongoing retail mainline. Exhaust (and Greasepit) showed up for order from a few of the smaller online stores a few weeks ago, but Hasbro's yet to acknowledge the toy exists. It's possible it's going to be available as a "see it and buy it now" SDCC-timed exclusive in a week or so, at which point HasbroPulse and the rest of the usual online retailers will put theirs up for sale.
Honestly, if Hasbro was gonna do an Evil Wheeljack, I woulda preferred Slicer.