Posted January 30, 2012 at 1:32 pm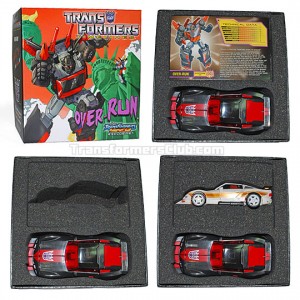 This year's "get free with your membership" toy is
Runamuck
, and the Beavis to Runamuck's Butthead,
Runabout
, is one of this year's
Transformers Club
"you pay for this one" exclusives.  Runabout (renamed "Over-Run" because of trademark reasons) is gonna be on sale very soon!  And the sweet part is, Runabout comes with a box that fits both him and Runamuck, since the freeish Runamuck is a bagged exclusive.
My favorite of the two is Runamuck, the membership-included one.  The orange and white and gold makes me happy.  Runabout intrigues me less, since  he's black and red, which isn't as uncommon a color scheme, but you can't have one without the other.
So if you want the Battlechargers, I'd
sign up for the Club
to get Runabout and then keep your eyes on the web for Runabout/Over-Run to go up for order.  I'm pretty excited for them.  And for their box art!  It's
Marvel-tastic
!
Oh, and I guess there's a
Shattered Glass Drift
going up for order, too.   If you like both, uh, Drift and Deadpool, you'll like
SG
Drift.
One more thing: With your Club membership, you get a
Recordicons
strip by me in all six issues of the magazine.  
I may show off a sweet panel from the first strip tomorrow or the next day.  I am super excited about it.
Actually, my copy of the magazine just arrived, so I'm gonna blather about it now.
Simon Furman's
not the only guy revisiting a branch of the original Marvel Transformers universe this year, 'cuz BotCon (and
Shattered Glass
) are Marvel-bound this year as well!  This gives me the opportunity to feature all sorts of new little tape dudes I didn't previously have access to.  And so in the first
Recordicons
of the year, I pit
Ravage
against
Ravage
.  And in subsequent installments, I have some similar ideas I plan to attend to.
Anyway, I'm just super stoked, because I just wrote my first canon-for-
the
a-Marvel-Comics-continuity bit of fiction.  That old stuff was my best friend when I was a kid.  I am not joking.
So, dudes, if you want a year of Collectors' Club magazines featuring my
Recordicons
strips, plus the Runamuck toy included in the subscription price, that'd be pretty swell.  If you dig Transformers, I recommend it!  
Here's the website.
Remember, the one with the "b" in the name is the black one.  ...except for in this case, because Runabout's name is now Over-Run.  Dammit, FP, you broke my mnemonic device!
Comments