Posted June 23, 2021 at 7:30 pm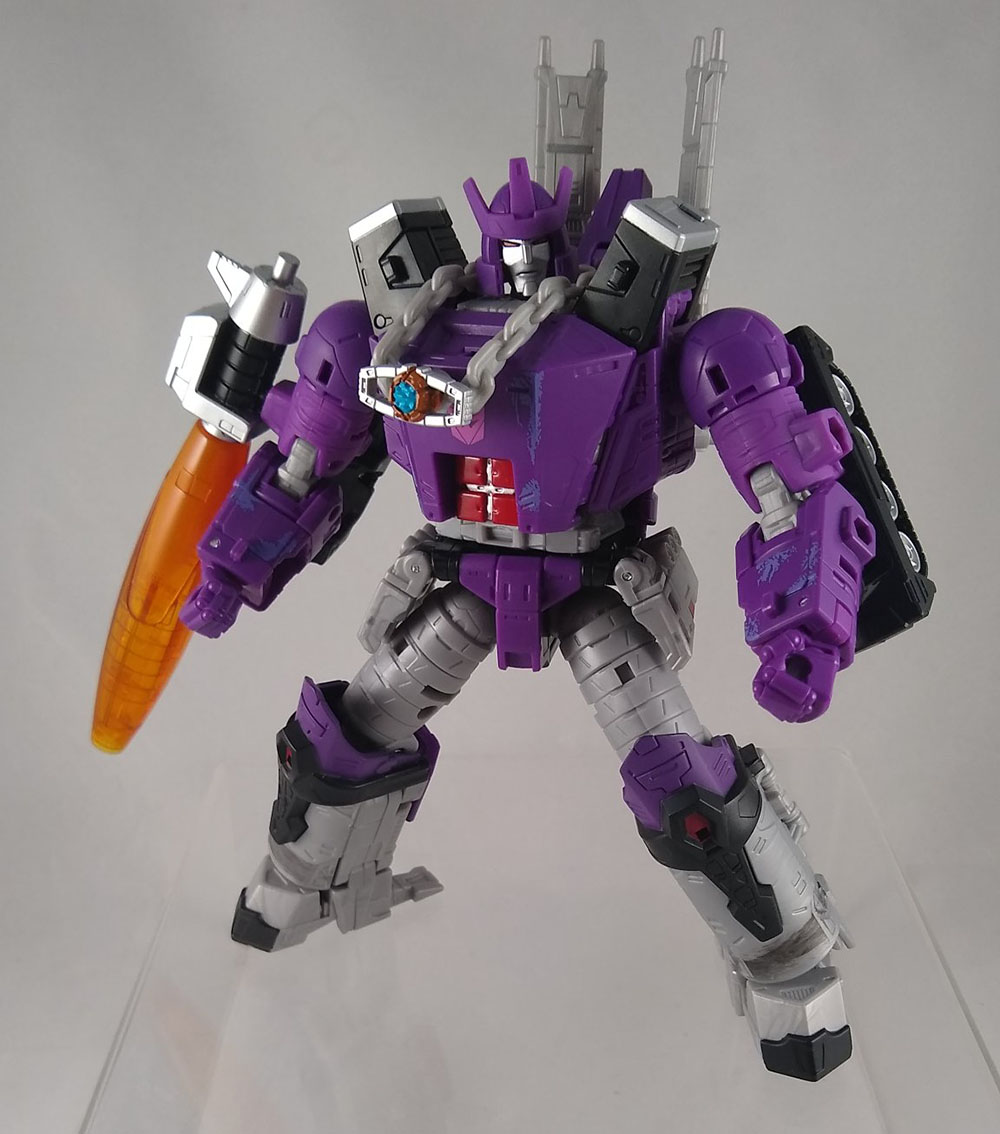 Don't get me wrong, I love Titans Return Galvatron's jet mode. I love that jet mode. It barely looks like a jet, sure, but I like it. I think it's a good altmode for Galvatron to have if you're not gonna do a space gun. To quote Marge Simpson, I just think it's neat. BUT, like, dude, that guy had no head articulation. And that guy's head looked like one of those tourist-trappy things where they cut a hole in the picture and you put your face through it, but not really threw it, more like a few inches behind it. It was a crucial blow to that otherwise pretty dang solid Galvatron toy.
Galvatrons have had trouble over the years, huh? The first one, honestly, is an amazing toy on its merits -- electronic, incredibly poseable for its time, large and imposing -- but many folks will tell you he's absolutely the wrong colors. They changed them between toy production and animation. And then there was the Generations Deluxe, which was just an absolute dogshit toy. It was neat that it transformed from a gray tank into a purple robot, but, like, at what cost, man, what cost. And clearly too small for a Galvatron. Then the Titans Return one, which folks thought was finally gonna be Our Guy, but then the head was immobile and dumb-looking. And then... I guess he was a Combiner Wars torso. That was neat, I suppose, but probably not what folks were looking for.
But here, it looks like Hasbro and TakaraTomy knuckled up and decided, okay, we're doing this right. We're so doing this right that we're gonna do him at Leader Class pricepoint just to make sure he's got the budget we need to do him right. Throw in some accessories to fill out the packaging window, why not.
And, hey, I'd say they've mostly succeeded with Kingdom Galvatron. Folks will have quibbles, for sure. Some don't like the areas of damage deco on his chest, arms, and ankles. Some don't like exactly what shade of purple he is. Some don't like him because he was stolen from factories months ago and photographed by somebody's camera with an extremely unflattering lens focal length. Some don't like that earlier samples of him have a shoulder misassembly that leaves his arms a half-centimeter lower. (Personally, I think it just makes him look more like Floro Dery's design -- dude loved dem low shoulders.)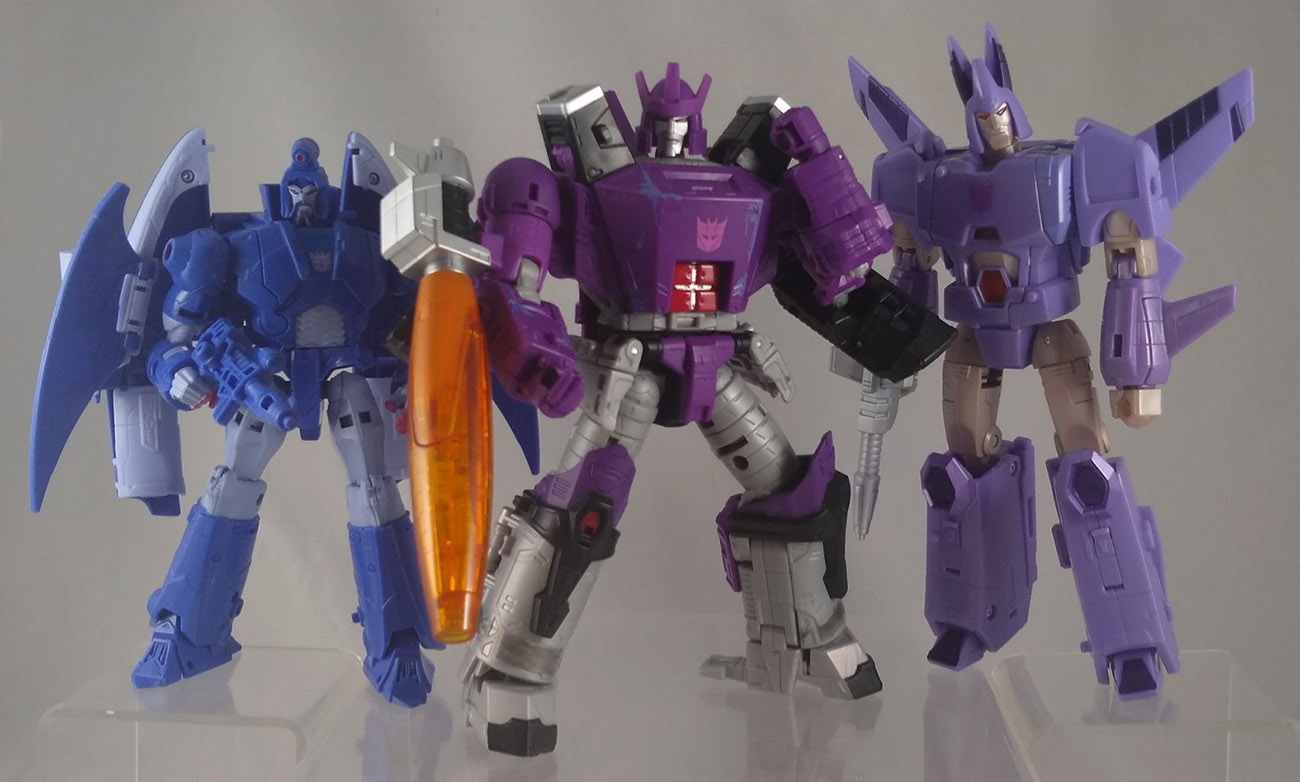 In hand, though? I'd say this one'll be hard to top. It has the gravitas you want a Galvatron to have, which is not really something afforded to a Galvatron since Transformers: Energon. Kingdom Galvatron is a wide, beefy boy, and a head taller than Megatron. He's got presence. He doesn't have skinny arms or thin thighs. He didn't skip any leg days. Kingdom Galvatron looks like he can fuck you up, which is what you want a Galvatron to look like.
His head turns! His barrel can mount on either his forearm or his bicep! (and not inside the elbow, restricting movement) He's got waist rotation and ankle tilts! He's got double-jointed elbows (for transformation) that allow for even more poses.
If Galvatron has a real weakness, it's his cannon mode. Not because it's bad, because it isn't, but... I dunno, if I weren't into Transformers, I'd wonder what on Earth it is. It's an extremely faithful-to-the-cartoon cannon mode. It's just, y'know, kind of a weird thing to behold outside of context. So he gets down on his elbows, which have treads on them, and moves his cannon from his arm to his torso? S'just weird. But it's "accurate," and these toys aren't for kids who don't know who Galvatron is anymore, so whatcha gonna do.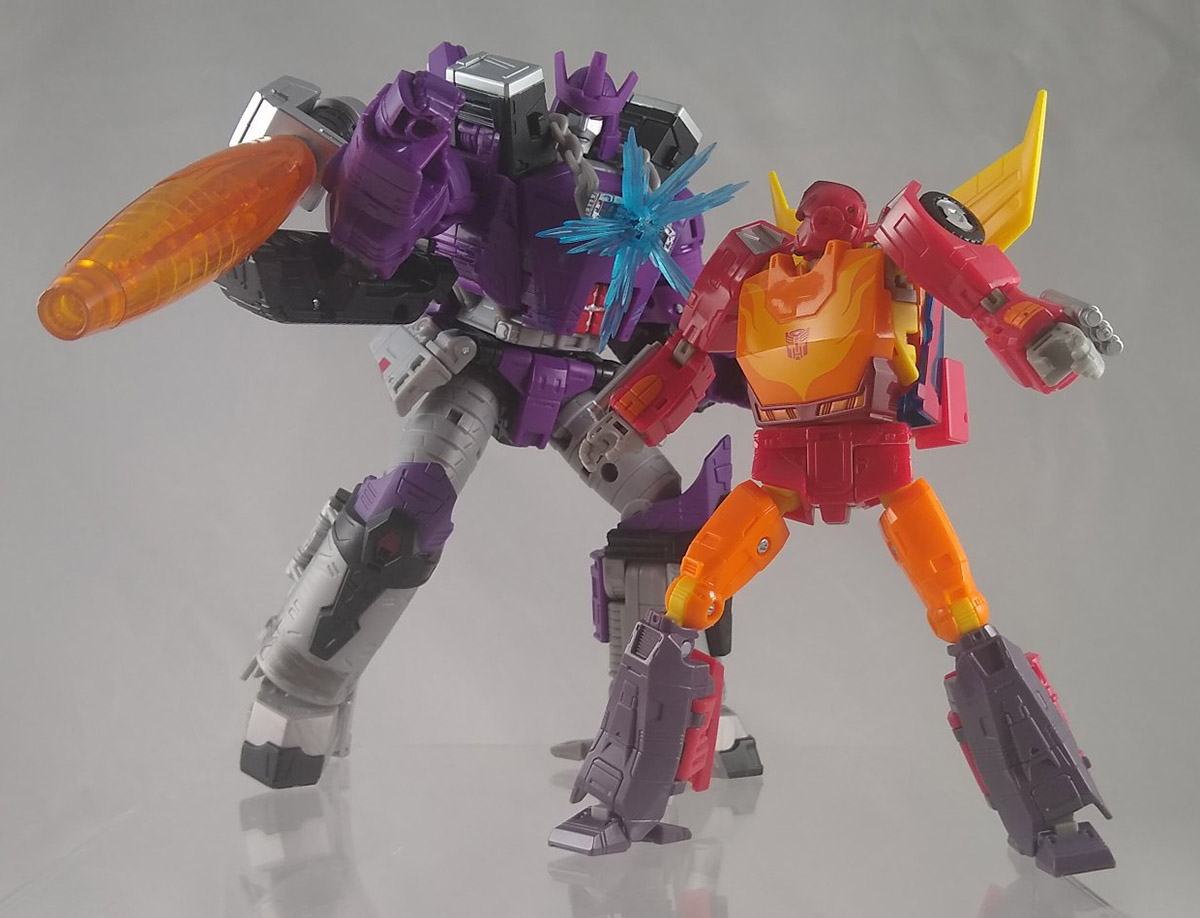 Galvatron comes with three accessories (if you don't count the two pieces that make up his arm cannon). First is a Matrix-on-a-chain deal that fits either over his head or over his barrel in cannon mode. In cannon mode there's even a little tab to help you secure it in place. He comes with two replicas of his Unicron-granted spaceship, which he can wield as separate blasters or combine into a larger blaster. You can also attach them on his back in robot mode or on either side of his cannon mode.
I'd be happy to buy this guy in many other decoes. Toy-accurate gray? Yes. The same thing again but a bluer purple? Sure. Give him a new head and call him Straxus? Why the heck not? This toy is good and I like it.
Comments