Posted November 29, 2011 at 2:35 pm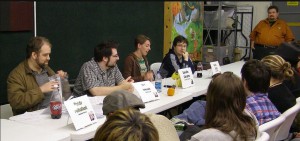 Dragons Lair is hosting the 3rd Annual
Webcomic Rampage
at their Austin, TX, location on December 10 and 11! If you want to get into the Q&A panels, you
gotta RSVP
, as theres limited room. There is unlimited room for the buyings and signings.
Who else besides me will be there?
Danielle Corsetto of
Girls with Slingshots
Randy Milholland of
Something Positive
Joel Watson of
Hijinks Ensue
Bill Williams of
Side Chicks
Jeph Jacques of
Questionable Content
Rob DenBleyker of
Cyanide and Happiness
Nicholas Gurewitch of
Perry Bible Fellowship
Josh Lesnick of
Girly
It will be fantastic.
If you need fodder for questions, know that Joel and I will be sharing a hotel room.
Comments