Posted November 15, 2018 at 12:10 am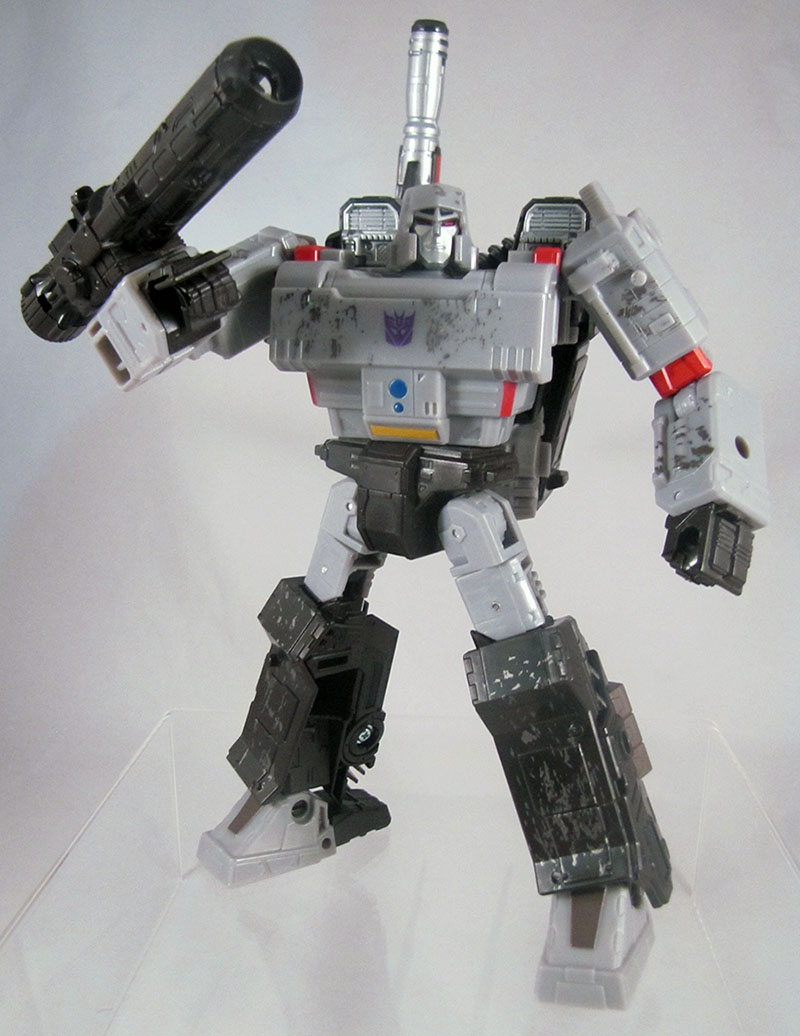 Honestly, from initial photos, I was kind of meh on this guy until I mentally envisioned what he'd look like with a darker helmet like Marvel Comics Megatron and suddenly dang I needed him. I haven't painted it yet, as of this writing, but it will be very soon.
I was initially kinda meh because, like, it's another G1-style Megatron. I have a few of those! And Combiner Wars Leader Class Megatron is pretty great already. I use him on my Lost Light shelf, since he's properly Magnus-sized. And my regular ol' Decepticon shelf has Classics Megatron, who is an amazing toy.... but is severely yellowing. But is still an amazing toy! It would hurt to replace him. He transforms into a Nerf Gun. It's hard to beat that.
I didn't think I needed yet another Megatron. I already skipped the regular Titans Return Megatron for the same reason. (I later ended up getting the purple Takara Tomy redeco of him because, well, he's really Beast Wars Megatron and comes with a tiny Savage Noble.)
But here I am with another Megatron again anyway. And, you know what? This is a pretty solid Megatron toy. He's just trying to be a really good Megatron, The Way You Remember Him. And he generally succeeds. Sure, he transforms into a Cybertronian-style tank and not a gun, but the latter isn't gonna happen again and Megatrons transform into nonEarth stuff all the time now. Megatron's been a Cybertronian vehicle for three out of his four movie appearances. He was a Cybertronian jet for all of Transformers Prime. He was a Cybertronian tank for all of More Than Meets The Eye/Lost Light. And so, like, Megatron not being an Abrams tank or a Walther-P38 but some kind of space tank doesn't really register on the Not Megatron scale anymore. He could be exactly this toy in a toyline full of otherwise licensed Earthy guys and you wouldn't blink an eye.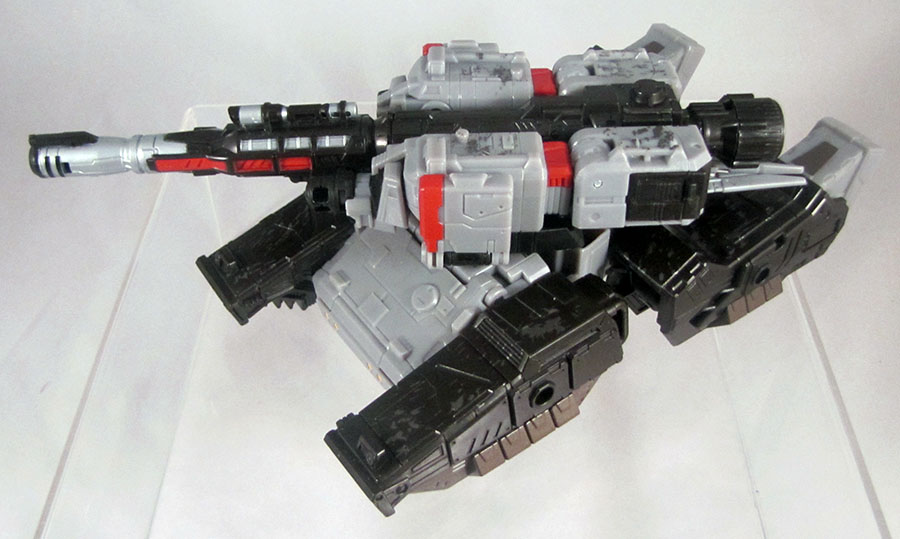 If you're a fan of 1984 Megatron, other than a gun transformation, this toy has basically everything you want. He's obviously cribbing a lot from the original cartoon/comic book character model. He's got an arm-mounted cannon that looks like a gun scope instead of a tank barrel. His head is incredibly buckety. And he even comes with a big sword, if you pine for the original Megatron accessory Japan got but we didn't. You can peel the blade away and attach the tank cannon inside the sword on his back, if you want to duplicate the barrel placement of the original Megatron model. (It may take some Cog pieces to get it to attach around his hip like the original toy. I haven't tried, but it might be possible.)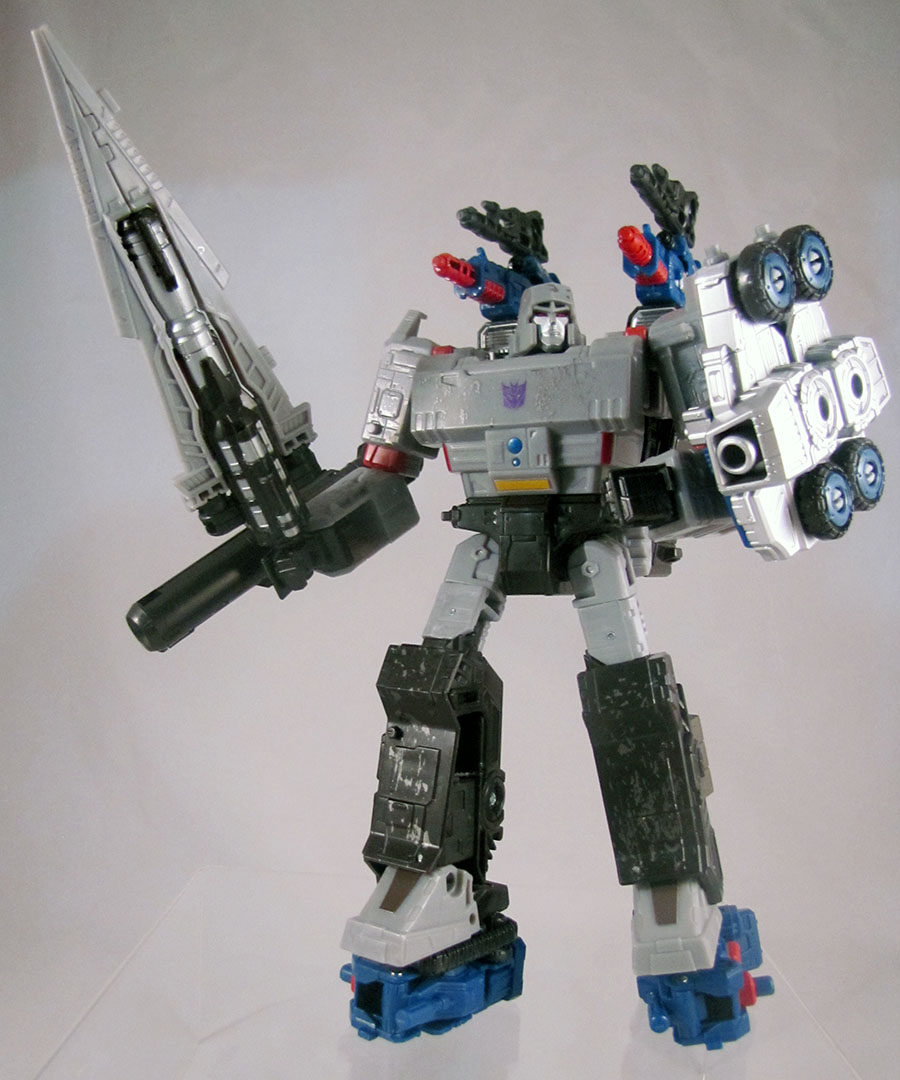 Again, Stege emphasizes articulation. There's that ankle tilting again, though you can lock those ankles in place completely vertically if you want. Megatrons rarely have rotating waists, due to their transformations, but this Megatron manages. His head really only turns left and right, but it's on a panel that rotates forwards and backwards a little before you rotate it too much and it looks kinda dippy.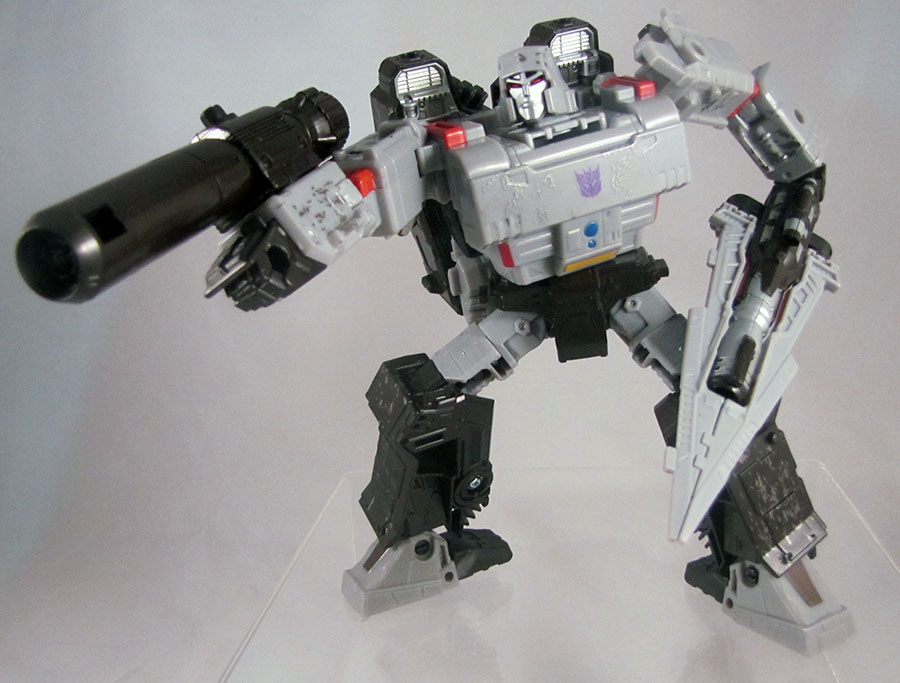 The transformation is more involved than you'd think. I mean, he's a Cybertronian tank, so he could look more like a pile of Megatron parts if Hasbro wanted him to be. But his chest tucks away underneath, and the hull of the tank folds out of his back and wraps around the front. Like Sideswipe, a panel opens up on his legs to give room for his thighs to hide inside, though Megatron's thighs do some 90 degree bendery to make it more interesting. The arm-mounted cannon pegs onto the arm via the usual 5mm peg, but it doesn't remove for transformation; it rotates around, pointing backwards in the middle of the turret that the arms fold. The sword transforms into the tank's barrel and plugs into the back of the arm-mounted cannon. The sword halves themselves tuck under the turret. The turret can rotate in tank mode, which is always a welcome feature as it's not always possible. The feet, uh, stick out the back.
The feet sticking out the back is really the toy's only visual downside.
If you want a good, no-nonsense Megatron that gives you a good feel for the classic iteration of the character, you can't really go wrong with this guy. Again, I think that's essentially what they were going for.
Comments