Posted November 16, 2018 at 11:00 pm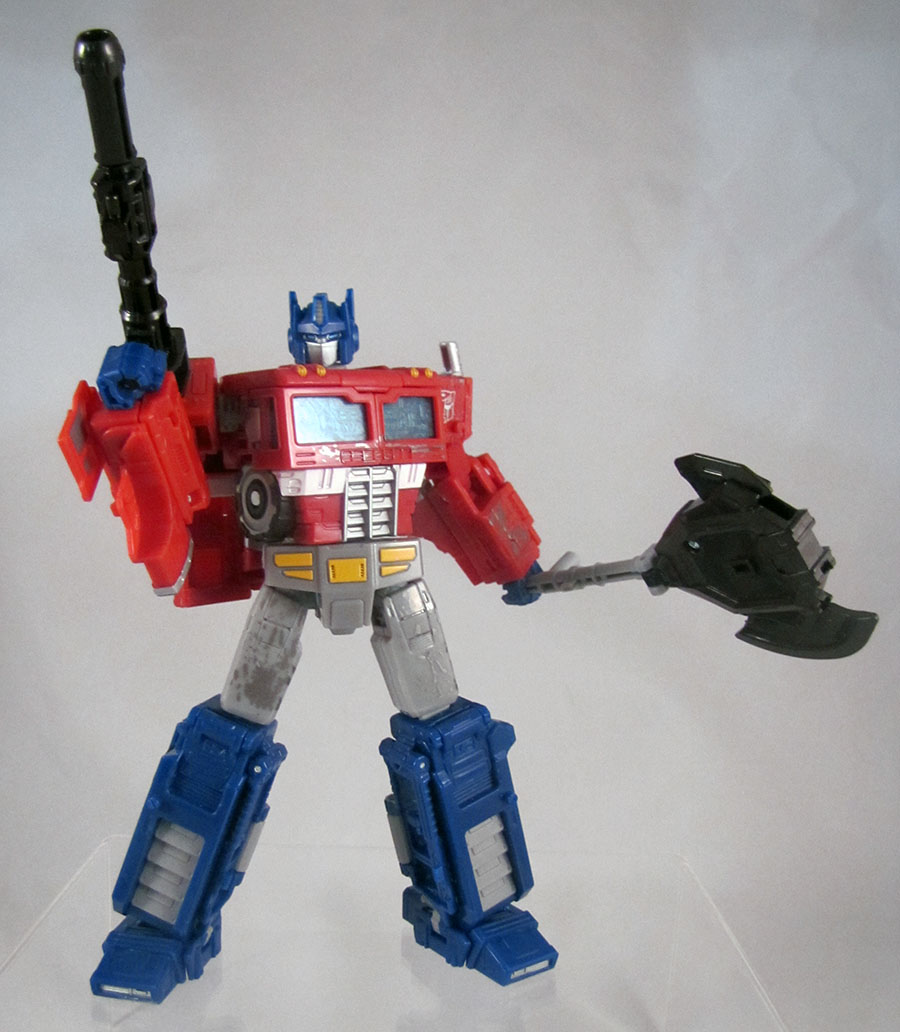 Here's a toy which I own because TFSource wasn't selling Stege Megatron separately and reviews on his casemate Optimus Prime were pretty strong. I'd been pretty underwhelmed with Stege Optimus just from promotional materials, partly because, well, it's Optimus Prime. We get a lot of those! And the only new thing he brings to the table is his half-assed Cybertronian altmode.
Yeah, it's very partially assed. It literally looks like a licensed Freightliner cab but with some boxes tacked on last-minute, like the Earth truck underneath was a stash of weed you needed to disguise from your parents who barged in unexpectedly. This vehicle mode is the Standing Up Against A Billboard Pretending To Be A Part Of It of preEarth forms.
Having the toy in-person doesn't change that a whole lot. What does help partially is that you can rotate the wheels facing down as if they were, like, hoverpods or something. Then, suspended by a display stand (sold separately), Prime looks more like a floating Tetris piece than a badly-disguised Earth truck at first glance. Second-through-eleventy glances he looks like a badly-disguised Earth truck again, though.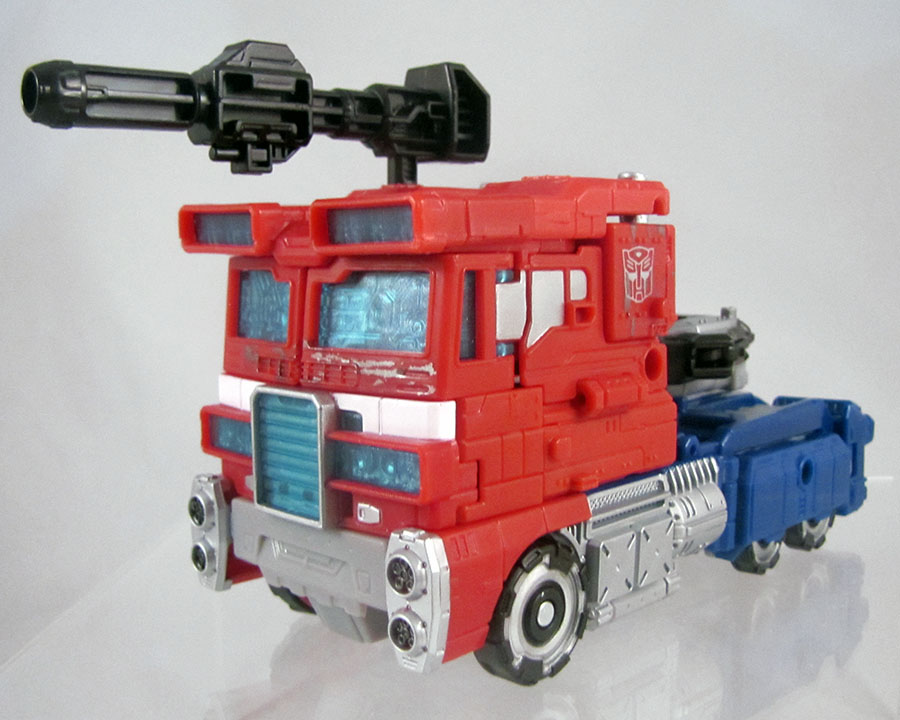 But I can see why he's been getting positive reviews. Though his robot mode is Just Optimus Prime again, it's a great robot mode to fiddle with. It's well-proportioned and has all that Stege-level articulation you expect (ankle tilts!). His head has a greater range of motion than Megatron, though, plus his elbows are able to bend at a little more than 90 degrees, which gives him a more natural "holding gun up" stance.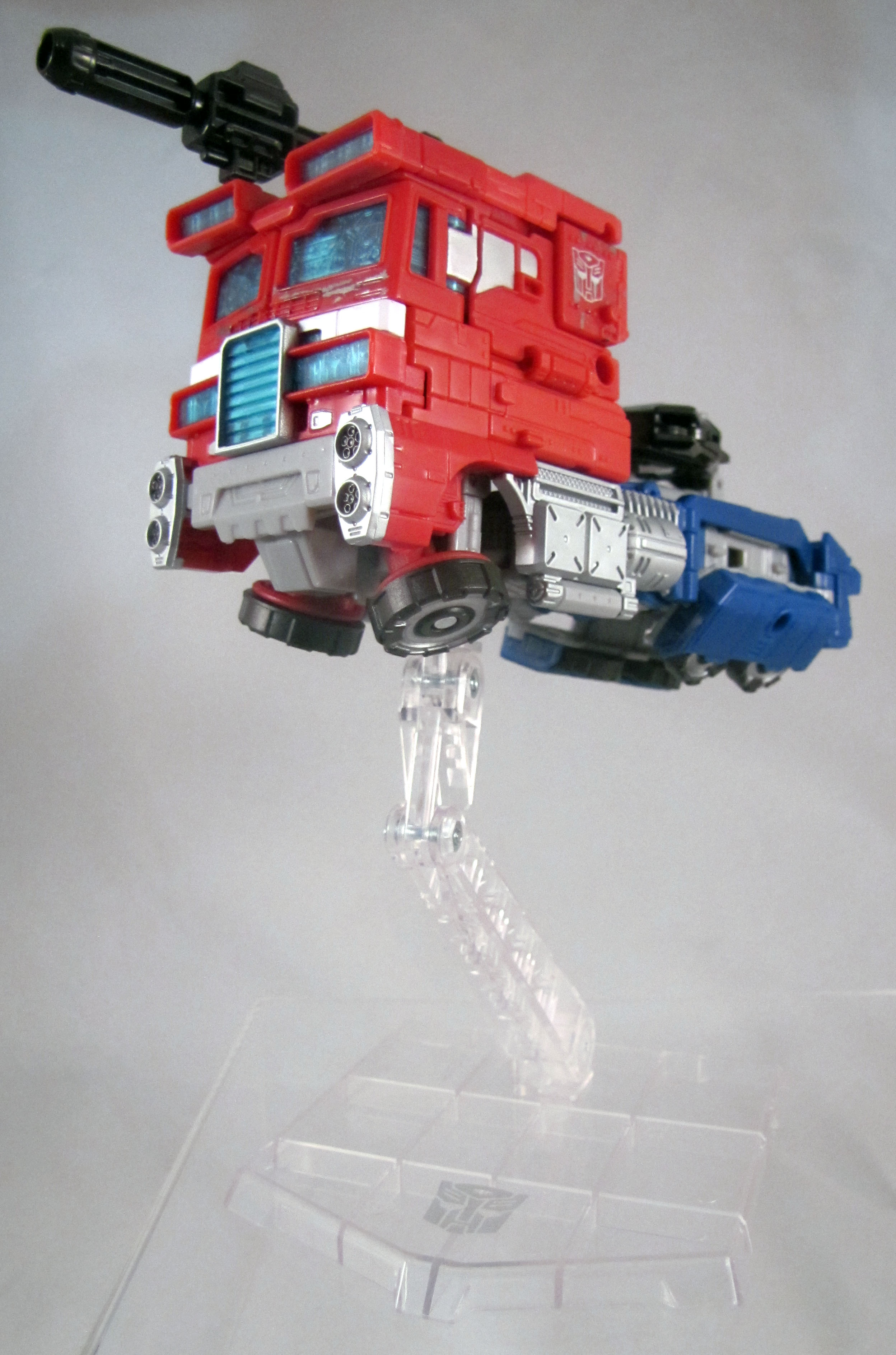 What really strikes me about him (and Megatron and to a lesser extent Sideswipe) is the little things they can do with his transformation now that they're not allocating budget and parts to making him a combiner torso or a little guy which turns into his head. Stege Optimus has so many little panels here and there that "complete" his transformation and make the robot mode feel more "finished" than there would be otherwise. Hell, there's tiny little flaps on his knees that fold out in truck mode just to cover up his thighs more. There's no real super need to do this, but it's nice that the toy has the bandwidth to spend on this kind of small stuff.
Optimus comes with an axe that folds up into... into something that plugs onto the back of his truck mode, and he comes with his signature ion cannon.
It's the first Classics-style Optimus that Just Transforms since... well, Classics Optimus in 2006. So if you weren't around then, or if you feel like 12 years is plenty time to justify an upgrade, then this toy's your dude. This toy's like that one in a few ways but easily better, though its altmode may make you roll your eyes.
Comments