Posted August 20, 2018 at 11:07 pm
man wtf
So, like, there were these four dinocassette guys who were only ever released in Japan, right? Four dinosaurs who transformed into mini-cassettes, and each pair combined into a bigger robot, much like Squawkbox and Slamdance. These were super hard to get even in Japan when they first came out, and they were never reissued or, really, mentioned ever again. And so you can imagine these guys went for a pretty huge price on the secondary market! If you could even find them!
(let's set aside that these four guys were not very good)
(look, they're dinosaurs, and we can't have them, so we don't really care how good they are)
In the past few years, there'd started to be some knockoffs of these guys. They were, like, you know, AVAILABLE, unlike the actual original toys, so lots of people jumped on them. Enough jumped on them that even the knockoffs go for a crazy price. We're talking hundreds of dollars. For cassettes. Knockoffs of cassettes.
So for San Diego Comic-Con this year, Hasbro was apparently all sure let's throw two of these guys (Dile and a bizarro Zauru, named Uruaz) into a set with a golden Camaro live-action movie Bumblebee. Now, the original molds are clearly lost, and so these toys were recreations. Hasbro took the original wooden two-ups (back when Transformers did wooden test shots at larger sizes and then shrunk) and did their best to recreate them faithfully.
Now, uh, there are some hiccups.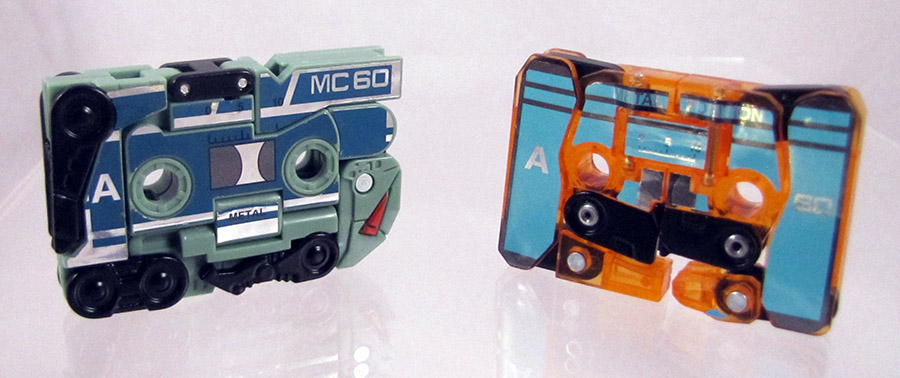 I'm pretty sure some of the surface detailing is based on, well, the knockoffs themselves. The wooden two-ups wouldn't have had any sculpted detail -- they'd just be a demonstration of the transformation engineering -- and so the sculpt itself would need to be copied from somewhere. But the surface detail of the SDCC versions seems to have more in common with at least one of the iterations of knockoffs rather than the original, actual toys. The face doesn't have a mouth, for example. Another difference between the knockoff and the original is that some sculpted hashmarks are put in different places on the biceps, and the SDCC Uruaz's hashmarks match the placement of the KO Zauru. So, uh, whoops.
Another whoops: the feet of the combined robot are fucked up. One is hinged higher than the other for no reason. It just is. It doesn't affect stability, but it looks goofy as hell.
When you combine regular-style Dile and Zauru, you call that guy Legout, but I don't think Hasbro's told us what the combined form of Dile and Uruaz is. Maybe it's Legtou or Gelout.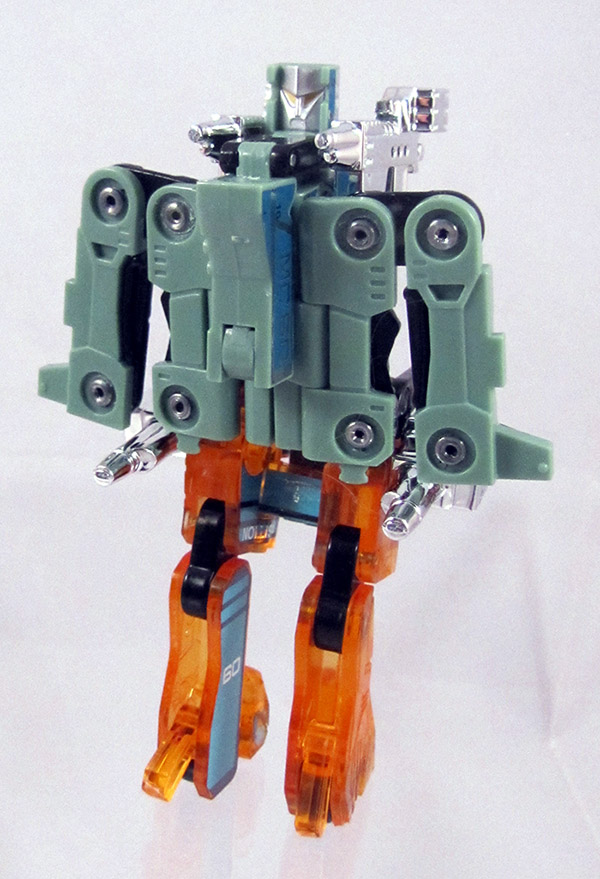 This is still a crazy gift from the gods, regardless. Toys that are so rare you can't even buy them for an unreasonable price are now available again for like $60 (including a Bumblebee nobody wants or cares about).
A second set (exclusive to Entertainment Earth) with a different Bumblebee will include Uruaz in his original colors properly as Zauru and a reverse-colored Dile to complete the set. Yeah, they gave them both evil twins and then split them up so you have to buy both to get properly-colored original guys and a set of reverse-colored evil twins. (and ultimately two bumblebees you probably don't want)
But, like, you can still combine the two from each set, so to most folks it probably doesn't matter too much. It's still these molds, released officially, all insane-like.