Posted August 2, 2018 at 11:37 pm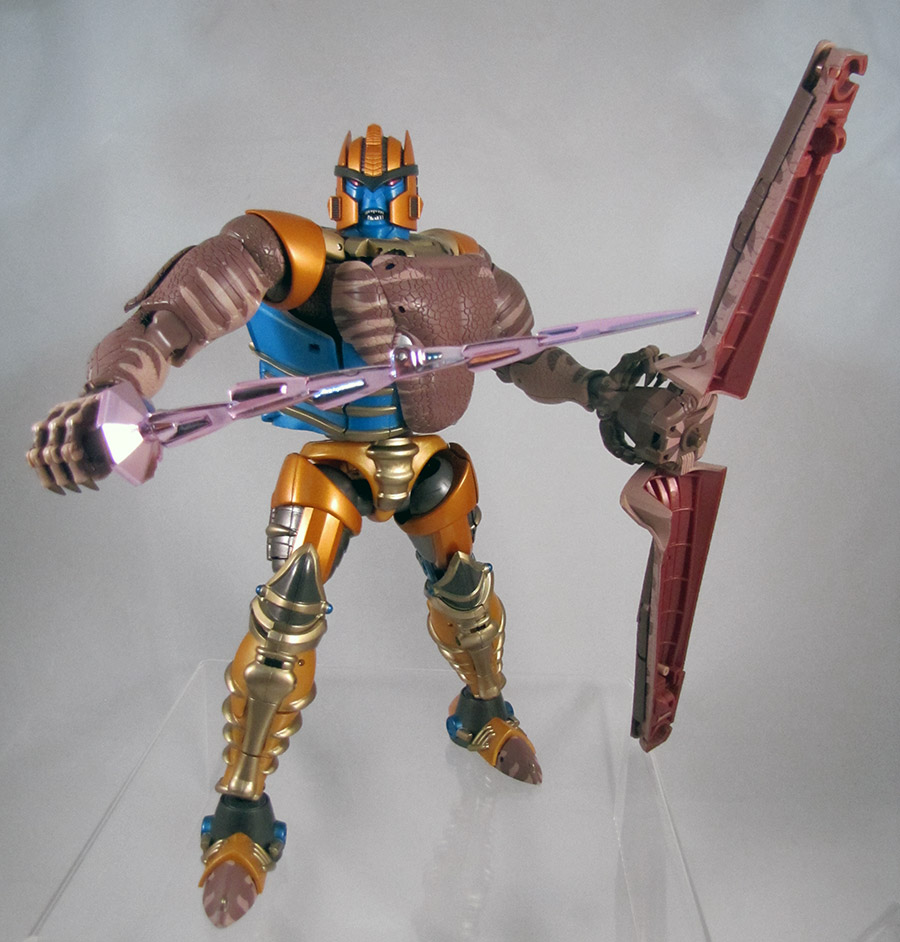 I may have once related through the webcomic medium about how, for a while, there was an arms race between Hasbro and Takara to make a more show-accurate Dinobot. There was the original toy, and then Takara put a gold helmet on it and de-pinked it a bit, and then later Hasbro tried to do more-show-accurate colors from scratch (badly), and then Takara tried to one-up them again (to limited success), and then Hasbro had a new Dinobot toy which was sculpted to look more cartoon-accurate, and then Takara painted it to match...
Kind of felt like, you know, a game that would go on forever.
WELP I THINK IT'S OVER NOW.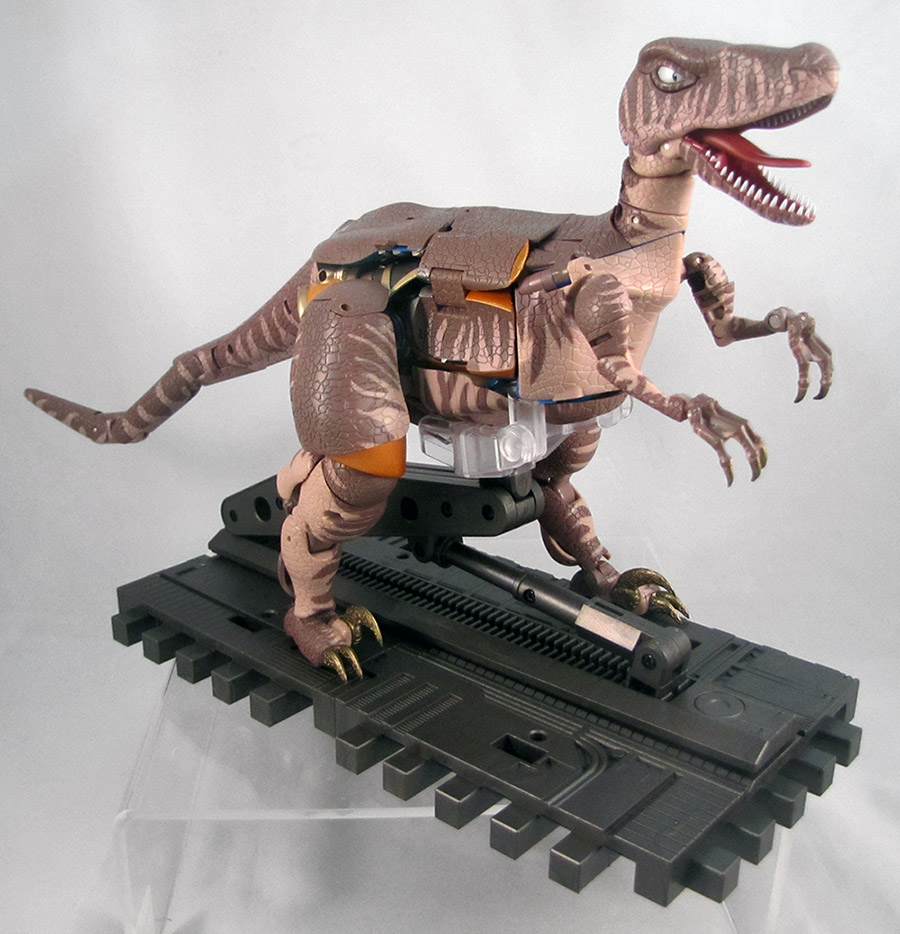 Witness Masterpiece Beast Wars Dinobot. He painstakingly recreates both the robot mode and the beast mode from the CGI cartoon, and somehow transforms back and forth. For good or ill. See, the problem with Dinobot's CGI robot mode is that it's clearly not anything that can transform into a raptor. It's just a robot with fleshy arms and a flattened-out raptor head on the chest. Everything else is robot. How does it become an organic, scaly velociraptor? Well, in CGI, it happens through replacing one model with the other in a fancy way through which hopefully you won't notice. Slight-of-hand, mostly.
And the problem with Dinobot's CGI velociraptor mode is that it looks like garbage. I mean, all praise where it's due -- this was 1996 computer animation for television. But, like, it's, uh, not a good velociraptor. I like to think the completely new Cyber Raptor models for the third season were a "hey look we can make a good velociraptor CGI model we swear" moment for the crew.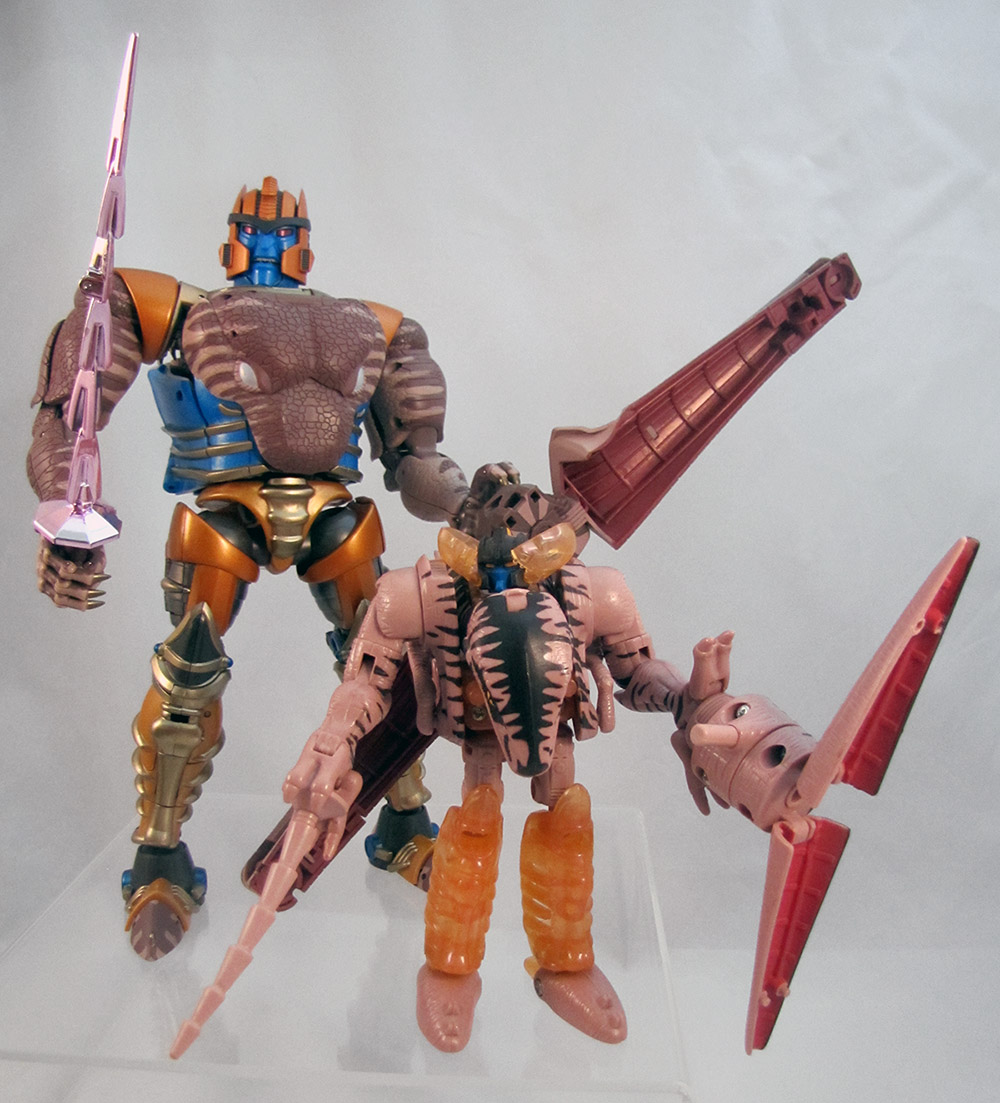 What I'm beating around the bush at is, uh, yeah, this toy transforms from a robot IMPOSSIBLY into a terrible, terrible velociraptor. On purpose.
And I love it.
Please take me seriously when I say this toy turns inside out. It does. The walls of the velocraptor torso are all robot bits sculpted on the inside, and the walls of the robot torso are all scaly on their insides. To get from raptor to robot, you open up the torso, shove the velociraptor head inside, and close up the robot torso walls around it. The raptor head doesn't become the robot chest, despite that being the original transformation and the CGI model's intent. It hides away inside the torso while the stomach of the velociraptor unfolds into the flattened, torso-shaped velociraptor head chest the CGI model had. This achieves the purpose of the endeavor: to have a Dinobot robot mode that looks like the CGI.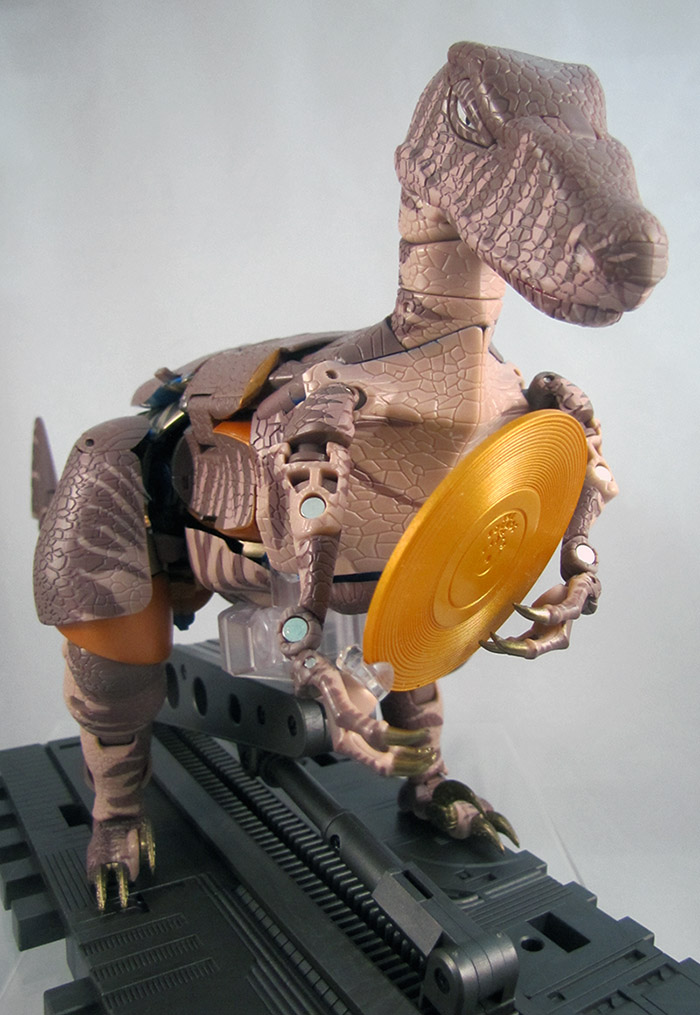 The velociraptor mode is definitely the second priority. It does its best, and doesn't QUITE achieve the actual shape of the CGI raptor, with its giant torso and slightly undersized head. But it tries. ...to be a terrible velociraptor.
Again, I love this. SOME toy should try to be the terrible show model and succeed. And this is that toy. No expense spared!
His rotate blade still spins when you push a lever. This is important. A Dinobot without his rotate blade is no Dinobot indeed. He still has his segmented sword.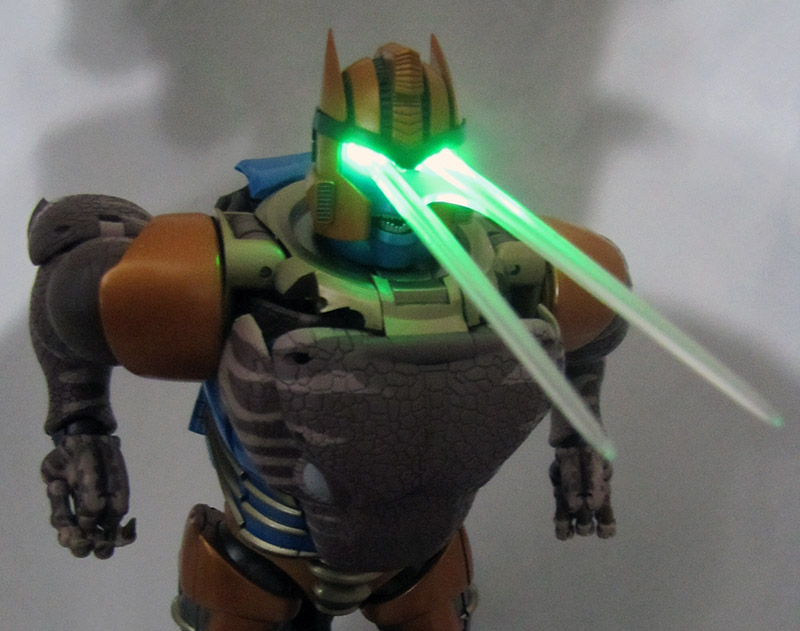 What's extra this go-round are a lot of smaller things and one big thing. The big thing is his giant display stand with the giant display arm. Dinobot is a pretty large, heavy toy, and sometimes a dude needs support. Especially in velociraptor mode, where like 99% of the weight is in the torso, which is not centered with the legs, and the tail is like a few grams at most, so it's not great at standing. The stand helps. It comes with a translucent piece that plugs around his stomach. There's a different piece for robot mode that wraps around his butt.
He also comes with the Golden Disk! The Voyager "Sounds of Earth" one. This is a season one toy, and the second Golden Disk, the alien one, had no association with Dinobot until season 2. There's both a translucent stand for the disk and a little attachment to help Dinobot hold the disk in his hands in either mode.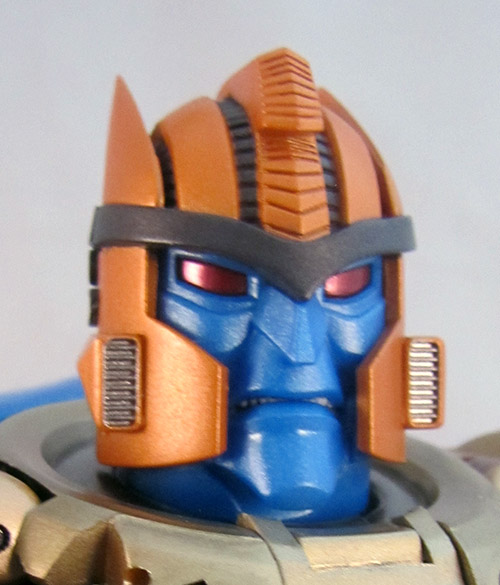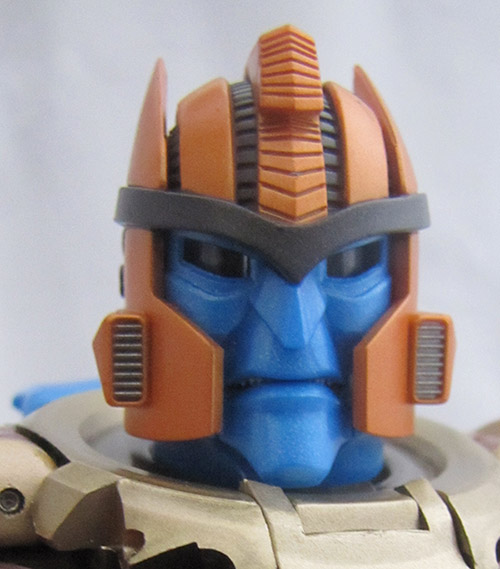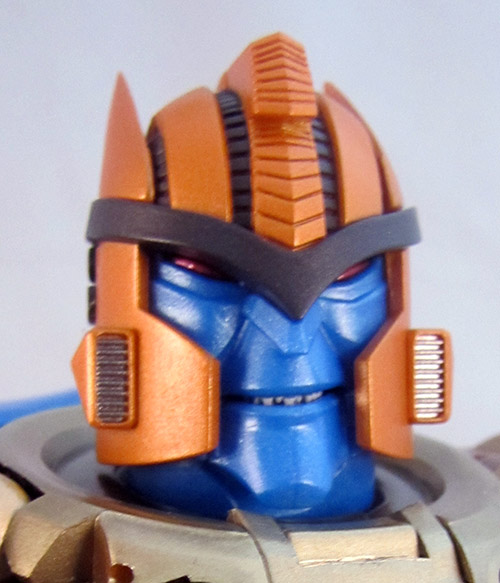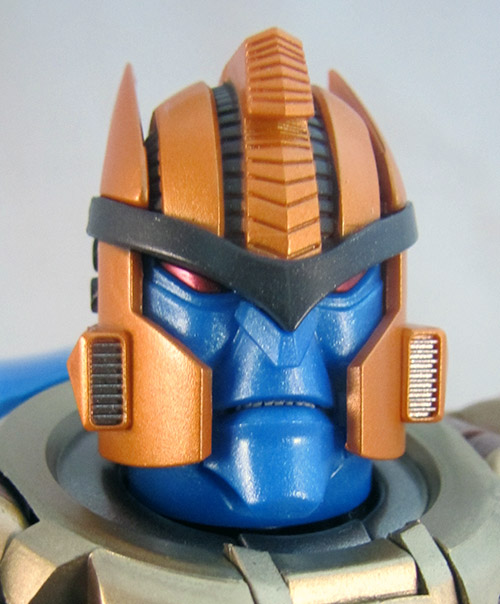 Dinobot also comes with FOUR different faces! There's default, angry, smirking, and LASER EYES. Laser eyes face comes with a further attachment that plugs into his eyes and makes him look like he's shooting laserbeams. The mouth on each is articulated, so you can achieve an incredible range of expressions across the four options and their variants. Put two button batteries into his head, press the button at the back of his skull, and his eyes glow red. Hold down the button and the eyes glow green for the laserbeam attachment.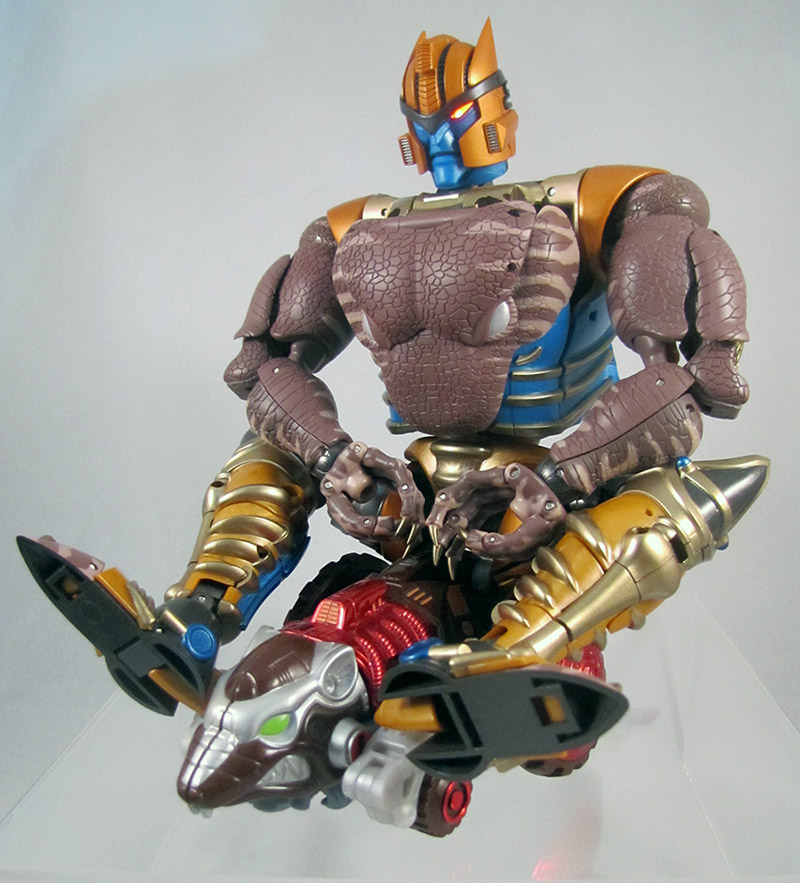 Pros: It's goddamn fucking Dinobot and it's beautiful, even the parts that are ugly, because it's goddamn fucking Dinobot. He comes with four faces with articulated mouths. He's massive and huge and scaled properly to everyone else in the Beast Wars Masterpiece range.... which is why he's massive and huge. He's incredibly impressive to behold.
Cons: Takes a while to transform, what with the flipping inside out. His weight is not distributed evenly and so most poses require the stand. Some people have had problems with one of the shoulder ratchets. He's $200.
For me, I mean, the pros and cons were irrelevant. It's a toy of Dinobot. I was gonna have it.
Comments