Posted February 3, 2019 at 9:53 am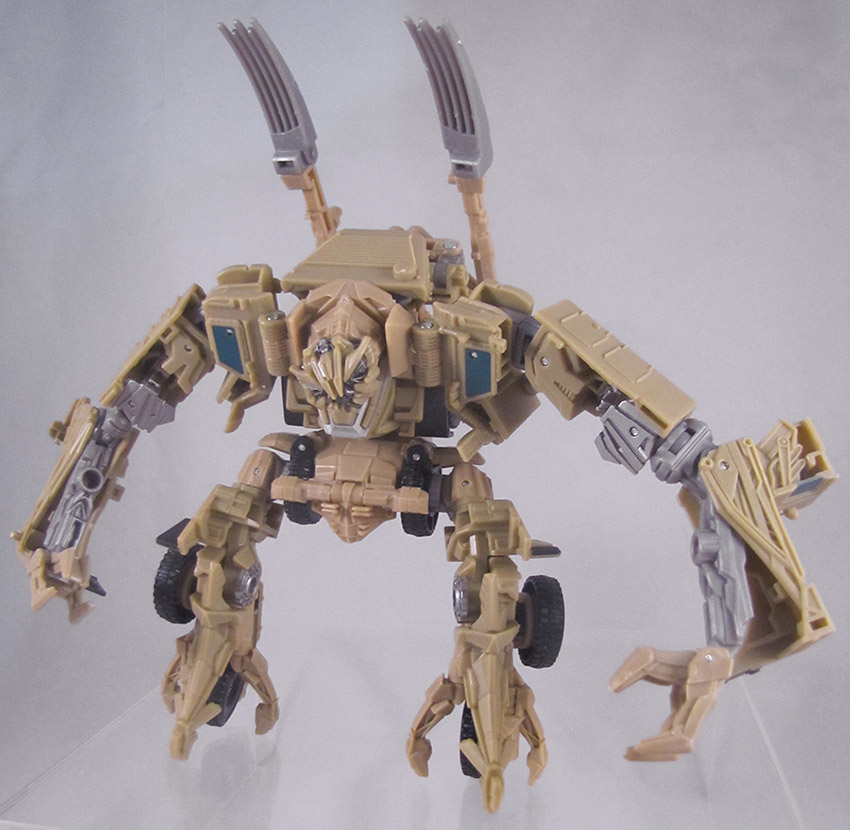 Everyone remembers Bonecrusher! Y'know, from the 2007 movie? Guy who smashes through a bus? Doesn't have a single line of dialogue, but kinda echoed some sort of gutteral moan through his Squinty Owl face? Lived approximately 30 seconds?
I guess he mostly lived on through online memes, huh. You know, the "Bonecrusher hates everything" running gag. Sometimes when somebody's just a not-even-roaring monster, you gotta pull some character mythos out of yer rear. I remember in the early days of fandom, when people would write fanfic screeds about, say, Reflector based on single lines of dialogue from the cartoon with an inflection that only the writer could discern. And the folks surrounding those people'd be all "look, we're pretty sure none of this is actually in the original text, this is an asspull, you desperate nerd." And then ten years later that same snarky audience is all big into Bonecrusher, who smashes through a bus and then dies.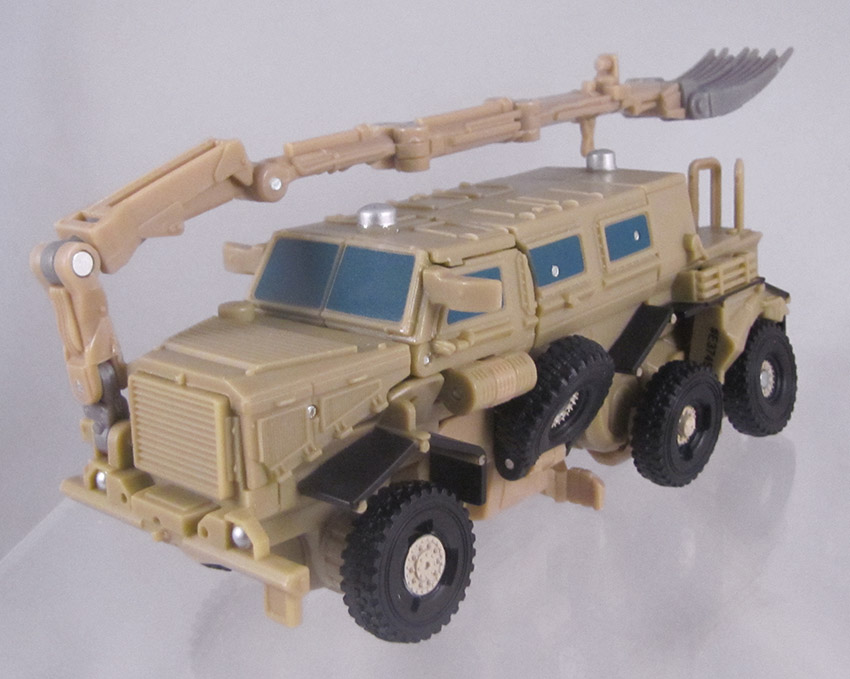 Regardless of this self-reflection, I still like Bonecrusher. I mean, sure, he's literally beige. He is a beige robot. But he has an angry flower made out of forks that he'll stab you with, and he roller skates. He is not a person, he is a monster, but he is a roller-skating forky monster.
This twelve-years-later Bonecrusher update is Voyager Class, not Deluxe Class like the original '07 model. This is very good, because, man, I gotta tell you, that Deluxe Class Bonecrusher was some weak sauce at the time. In the movie, Bonecrusher only interacted with Optimus Prime, and Optimus Prime's toy was Leader Class. In the movie, they're the same size. In toy scale, Bonecrusher was Optimus Prime's toddler son. And so it scratches a decade-long itch to have a Bonecrusher who's roughly the same size as the concurrent Optimus Prime toy. In Studio Series, Optimus Prime is downgraded to Voyager, and so they can just about interact plausibly. That's really the best selling point of Studio Series -- everything aims for scale. It doesn't always exactly hit the precise mark, but it tries.
New Bonecrusher transforms very similarly to the Old Bonecrusher. The arms form the top half of the vehicle and the legs form the bottom half. The two halves connect at the front of the vehicle, where the torso is. Some of the smaller details are different, but the broad strokes are there. That's not to say this guy isn't improved. He's got a lot less giant vehicle kibble hanging off him where it doesn't go. The new toy is way more efficient at putting stuff where it goes. And he's got his back-wielded pair of mine-clearing forks which can fold together, sort of, into the angry flower weapon we see briefly in the movie. It still regrettably looks like a pair of forks facing each other, rather than a circle of prongs, but there is an attempt.
Studio Series Bonecrusher is a satisfying recreation of a noncharacter who we like despite not him not really putting in the work for it. And he's rightfully huge. Thumbs up for you Bonecrusher stans.
Comments