Posted April 9, 2018 at 11:02 pm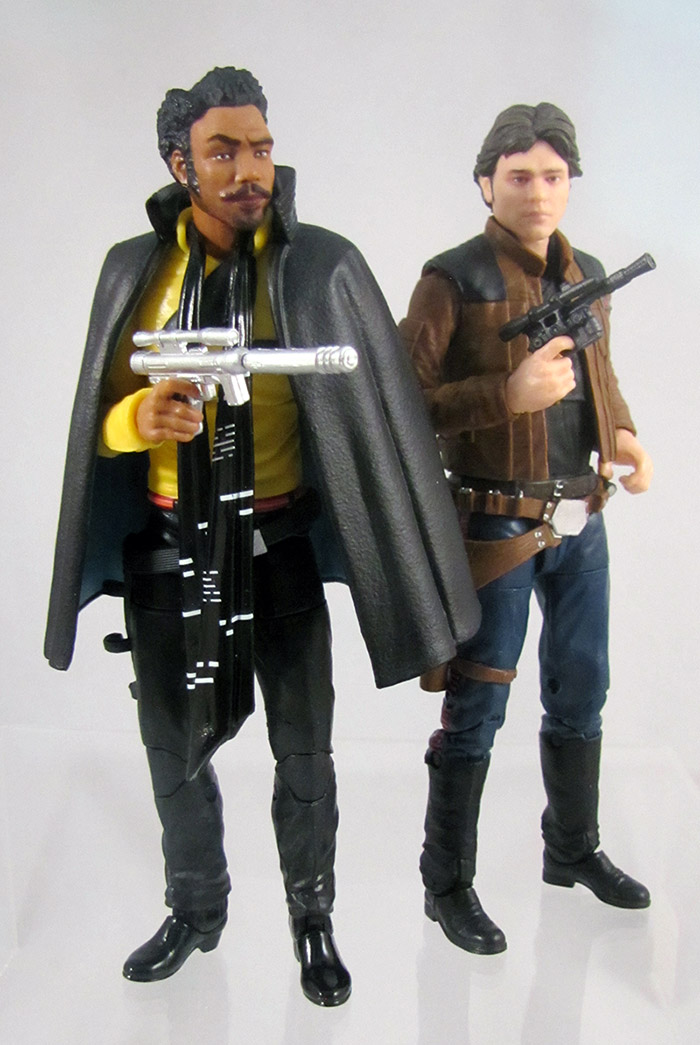 Holy crap, a non-Transformers toy review!
I can't believe it took me as long as it did to realize that Donald Glover playing Lando Calrissian would inevitably result in Donald Glover action figures. It is as if the heavens opened in that entirely later than excusable moment and God shined down on me and said "YOU WILL BUY THE FUCK OUT OF THAT"
And he was right!
I don't pay attention to Star Wars toy news as fastideously as Transformers toy news (I can only spread myself so thin), so the news that Solo toys were being found in stores was delivered to me through the Star Wars Minute Listeners Society Facebook group. By that evening, I was looking at Targets. But one of the nearby ones had completely empty pegs and a gaddanged 75%-off clearance sale on 6" Black Series figures. I figured that store was an eternal dead end. I mean, who the heck isn't gonna buy up $5 Landos (or anybody else) as soon as those things hit the pegs?
But Target's online inventory kept telling me that store was in stock, despite the empty pegs, and so I went back the next day and LO AND BEHOLD there were $5 Landos. And $5 everybody. I grabbed up a Lando and a Grand Moff Tarkin and a friggin' Han, why not. I wasn't planning on getting Young Han, but that was at $20. For $5? Heck yeah. Lando can have his sidekick for $5.
The other closeby Target has them all for full price and I think it's just a wall of Troopers and Kylos.
Donald Glover Lando, the toy, hit at just the right time. Hasbro's just started upping their paint deco game. Instead of completely unpainted plastic for faces with maybe some eyes and eyebrows in there, they now do this thing where they, like, spray the face on. Unlimited colors, at once. Like an inkjet printer. They print a photo on the sculpt. And it increases the likeness pretty darn a lot! I'd been adding some color variation to my Star Wars 6-inch guys myself, so this not only looks better but also saves me a lot of time!
And so Lando looks fantastic. He's (usually) a $20 action figure, so he dang well better.
Lando's cape sits across his shoulders. Gravity keeps it there; there's no attachments. He's also got his double ties and a holster on his right leg. I learned while removing the gun from the holster that the gun's barrel/silencer can remove. So that's neat!
Han also looks okay.