Search tag: "masterpiece"
April 21, 2017 03:30 am
As was my singleminded plan from the start, I customized my Masterpiece Megatron to appear more like his color scheme in the original Marvel comics. I mean, that's why I bought this guy, really, so my customized Masterpiece Marvel Ratchet would have a sparring buddy.
First I cracked open his faces to paint his eyes yellow. ... Well, gold. I was leaving most of Megatron's colors unaltered, and he's a very rich and sparkly gray, so I figured gold would mesh with that better than primary yellow. Thankfully, on each of Megatron's swappable faces, Megatron's eyes are on a separate piece from the rest of his face. This piece is a real doozy to remove. It pulls out like a slotted battery cover, if that battery cover were also pegged in and not meant to ever be removed. And so I had to violently crowbar it out with the smallest flathead screwdriver I had. The back of these faces is a hacked-up mess. A mess you'll never see since it's behind the face and inside the head when assembled, but a mess nonetheless. And the gold paint would often scrape off the eyes as I squeezed the eye-piece back in, and so sometimes I'd have to crowbar it back out again and repaint and retry.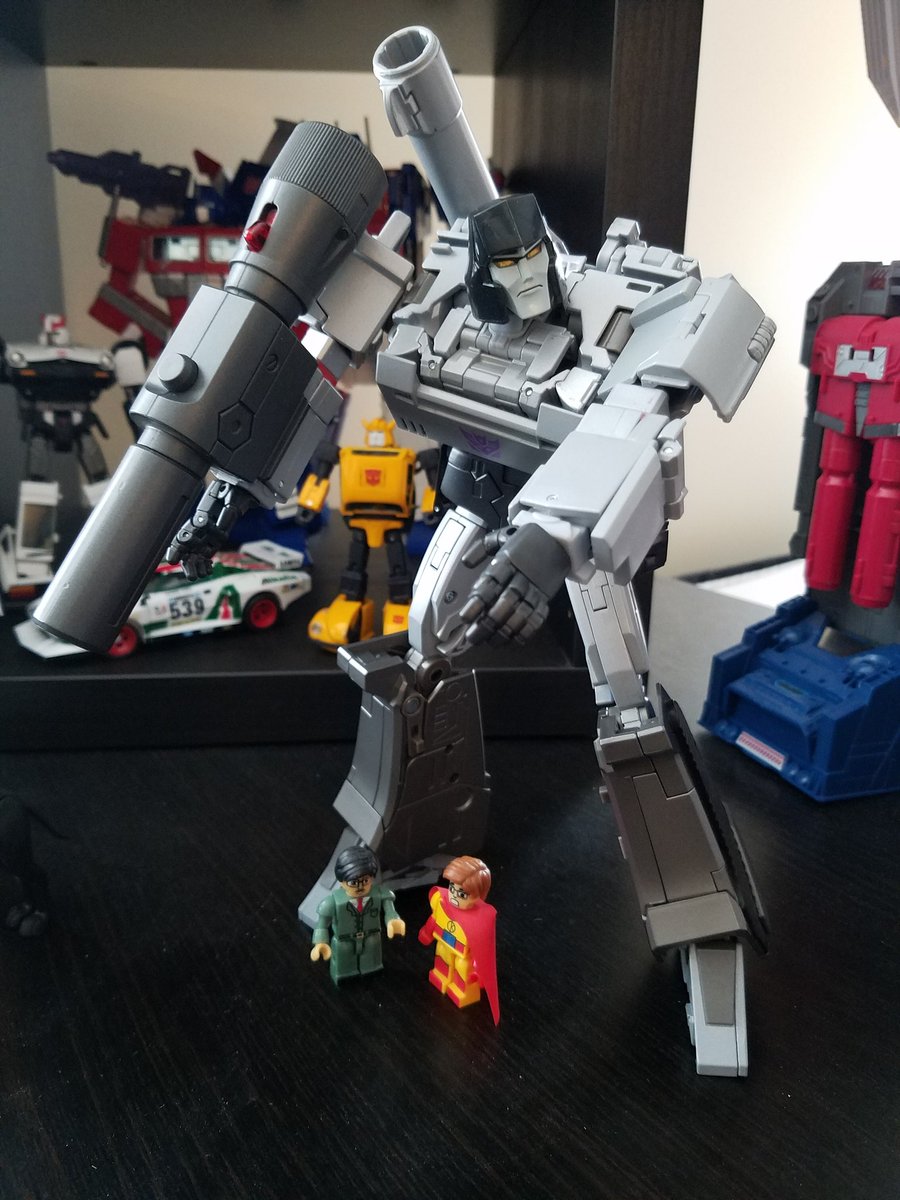 Compared to that, the rest of my customizations were a breeze. I got a big flat brush and painted Megatron's helmet gunmetal. The gunmetal acrylic I used is a little shinier than the dark gray on the rest of the toy, but I'd never be able to match that in a million years -- it's speckly and textured paint. It's close enough at a glance, however. This process was relatively easy because you could remove the face to paint most of the helmet, which considerably lowers your chances of accidentally getting paint on the face. You still have to paint each face's forehead, but that's way less surface area to need to be exceedingly careful with.
And finally, I painted his outward ab sections red. Just red. There doesn't seem to be any gloss (non-transparent) acrylic reds from brands I recognize, so I just got a regular red off Amazon. I have a flat red, but I wanted it as shiny as possible. While painting, I transformed Megatron's many torso shards out of the way so I could have as unobscured a view of the parts I wanted to paint as possible.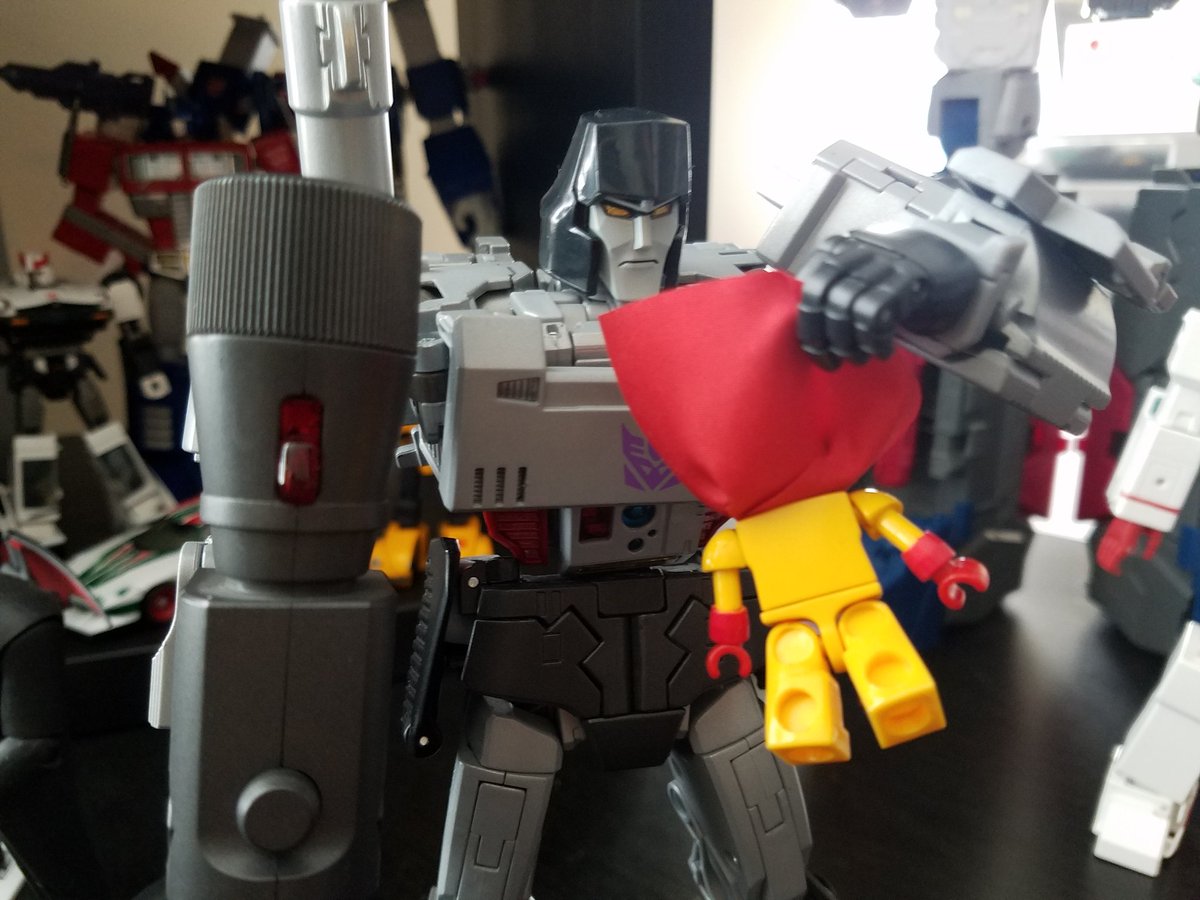 The comics also painted his gun barrel a medium blue, which was probably supposed to be a medium gray, but 1) this was never colored consistently and 2) I'd DEFINITELY never get the silencer attachment on again with fucking everything up, so no thanks. Another detail I didn't bother with is moving his Decepticon chest symbol over a little to his right. I'd never be able to match the gray, and they'd stopped off-centering his logo eventually anyway, as it was based on a bad perspective error on his model sheet which the artists seem to have eventually figured out.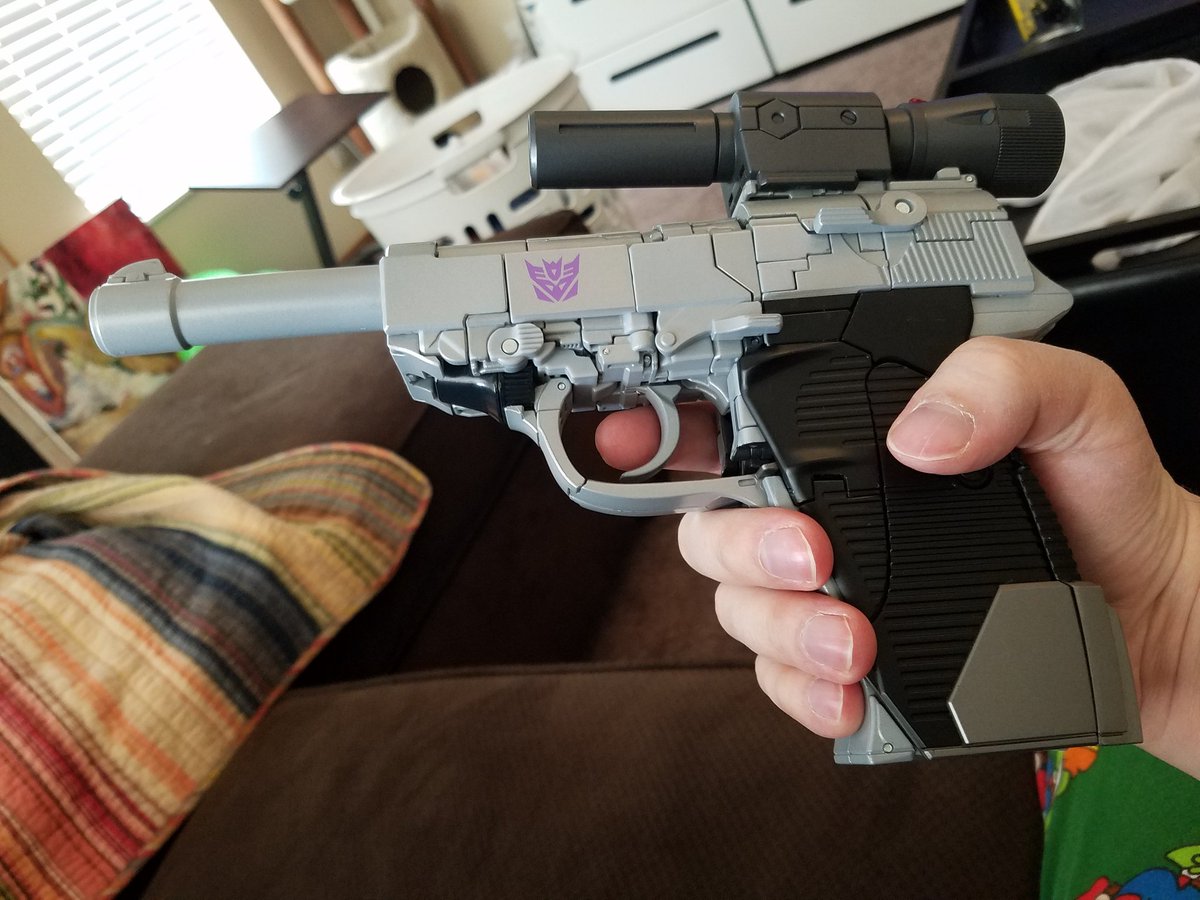 He still transforms. I checked. And, really, the parts I painted seem to be more safe from scraping than the factory applied paint he came with. There's more clearance around his helmet and his ab slabs than on, say, his barrel and silencer. My modifications just mean there's a strange black area just in front of the trigger guard.
Tagged: megatron, kitbashes, masterpiece
---
August 22, 2017 02:25 am
So, like, live-action movie Optimus Prime is now this deranged, pissy murder machine, but there was, like, a movie and a half where he was pretty okay! There originally was some kind of majesty to him, honestly. I don't think I'm ever going to cotton to the new kibble-less design for Movie Prime that's been in the past two movies partly because I associate that body with the murdery end of the characterization spectrum, but there remain some legitimately good feelings with the first look.
AAAAAND so I got myself a Masterpiece Movie Optimus Prime. Just keep repeating to yourself that this is "Fate rarely calls us at a moment of our choosing" Prime and not "I'LL KILL YOU!!!!" Prime. This is Movie Prime before he turned to cocaine to cope with his moviestardom.
At first glance, you might wonder, okay, like, is this just a redeco of Revenge of the Fallen Leader Class Optimus Prime? It's true, they're a little similar. They're essentially the same size, and they transform very similarly. Masterpiece Movie Prime is a completely new toy, though, and everything different about him is better.
If you've owned or handled an ROTF Leader Prime, you might recall that the transformation was incredibly involved, a little frustrating at points, but nevertheless somehow resulted in a surprisingly accurate action figure in both modes. Masterpiece Movie Prime still has an incredibly involved (and, as noted above, very similar) transformation. It's actually probably a little bit more involved! The good news is, nothing frustrated me. The transformation is more complex, but no parts get in the way of other parts, and I never wanted to throw it against the wall or give up in frustration. So that's enjoyable!
The toy is also more accurate in both modes. The forearms are less-obviously hood chunks, everything's sculpted a little closer to on-model, and the kibble on the back tidies up much better and takes up a smaller volume.
There's also a buttload more paint. (Takara's released a few ROTF Leader Primes with an obsessively-accurate paintjob, but this is the first for Hasbro, I believe.) The flames are properly outlined in silver. The insides of the legs are painted properly. The biceps are wrapped in color instead of being left bare. Silver areas are painted silver where it can be, rather than being left in silver plastic.
The headlights are translucent plastic, rather than being painted on. Parts of the toy are in die-cast metal, which not only helps him easily stand (the feet are largely metal), but since the die-cast is left unpainted, it gives his metal parts an appealing, weary texture.
You can swap the faces on his head from mouthplated to bare mouthed. There's a small Matrix inside his stomach. He comes with two swords and his gun, which you can either give him to wield or combine and store on his back in either mode. He has some finger articulation, and everything satisfyingly ratchets when you move him around.
Also, there's an MP Movie Bumblebee, and the two seem to be in scale with each other. That's allegedly the Masterpiece line's thing, robot mode scale, and that's an appealing draw to me. I'm on board for accurate scale alone, pretty much.
He's pretty great. I mean, he may eventually some day take your face, but the face-ripping hooks aren't included, soooooo.
Tagged: optimus prime, masterpiece
---
August 28, 2017 02:01 am
I mentioned how Masterpiece Movie Optimus Prime was a situation of deja vu, sharing a lot of transformation ideas (and scale) with an older toy of him. This is not the case for Masterpiece Movie Bumblebee. Bumblebees tend to be Deluxe Class (and thus smaller), and so the only comparatively-sized toy to the new Masterpiece is the old Human Alliance toy. And that figure prioritized having a hollow drivers compartment inside so it could be driven by a Sam Witwicky figure, so it had to take a few liberties with robot mode accuracy.
And so MP Movie Bumblebee feels like a whole new animal, one that he will undoubtedly rip the spine out of.
There's lots of little things here and there that no Movie Bumblebee toy has attempted to replicate before. Bumblebee has his little collar pointy things, for example. And it's kind of amazing that it's taken this long to get a Bumblebee toy that gives him both sets of robot mode wings. Yeah, in the movies, he doesn't just have only the doors for wings. There's a second set of smaller wings made out of car parts underneath those doors, because insects (aka bumblebees) have two sets of wings. Stuff like this is possible when you're working with a larger toy than usual, apparently.
Another visual departure from earlier Movie Bumblebees is the robot mode proportions. Deluxe Bumblebees tend to have some abbreviated lengths here and there in order to be able to fit everything inside the car mode. The Masterpiece does its best to give the robot mode the proper room to breathe. The thighs are the usual culprit, and here they are a comparatively luxurious length.
Be warned, because there is a lot of shit going on in transformation, mostly in the back half. In order to get those luxuriously-lengthened legs, everything basically explodes and then tabs back together differently. This is another departure from the usual Deluxe Class Bumblebees, which accordioned its legs in a simple, graceful manner. These legs do not accordion, they disassemble centimeter by centimeter. The instructions are of no help while transforming the robot mode back to vehicle mode. They don't show you how to put everything back.
The front half is relatively easy. Often getting the arms shoved back under the hood of the car on the way back to vehicle mode is an annoying ordeal. Here, so long as the hands are tucked inside the forearms, it's very straightforward. You merely lay the arms lengthwise underneath the hood, and nothing's there to get in the way of you doing this.
Like Prime, Bumblebee's head can swap back and forth between normal and armored faces. Also like Prime, Bumblebee comes with a weapon, though his is a cannon tip which you plug in over his wrist stump. This cannon tip can stow on his back in robot mode or splay open and plug underneath the vehicle mode.
MP Movie Bumblebee's biggest fault is his ankles and heels. Unlike MP Movie Prime, Bumblebee does not stand very well. Only his toes are metal, and there's no ratcheting joints to prevent unwanted movement. Standing him up is often a balancing game, and it's kind of annoying.
Tagged: bumblebee, masterpiece